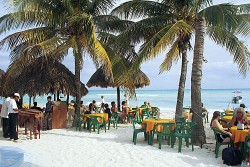 When Playa del Carmen and I first met, it was love at first sight."Playa" which is Spanish for "beach" was once a small fishing town and over time has now grown to be a favorite destination in the Mayan Riviera.
Playa enjoys a sub-tropical climate with temperatures hovering around 80F & this past winter when cold winter weather was pounding the US Gulf States, we were basking in Playa's warm arms! (Wahoo!) Most families have only one week for a tropical vacation so knowing that your weather will be warm during your stay affords you peace of mind. Which to me is the "ultimate vacation".
A big draw to Playa other than the beautiful beaches, are the ancient Mayan ruins, snorkeling, diving and eco-parks,along with the famous "5th Avenue". This amazing pedestrian-only street built one block from the ocean is the bustling heart of Playa where you will find everything; restaurants, outdoor cafes, art galleries, handmade crafts, souvenirs, grocery & fine wine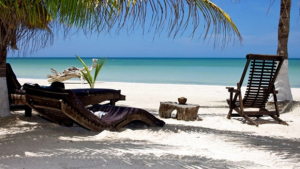 shops, pharmacies, bars, bars and you guessed it, more bars! We've seen mimes, fire breathers, fireshows and exotic animals which has been as thrilling for us adults as it was for the kids! If we're not on 5th we can be found lounging at one of the many cafes dotting the beaches where you can enjoy a beer or margarita from a bar swing or hammock! Another charming quality about Playa is its European influence which lays claim to a "little Italy" section North of 5th ave. where you'll find Italian bistros,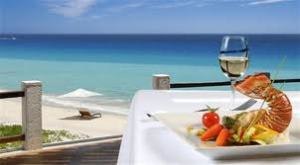 gelatto, fresh pizza, cafe bars & jazz clubs.  Playa enforces strict by-laws which limits buildings to only 3 stories high which helps preserve its quaint atmosphere & ocean views.
When we decided to rent a private condo in Playa, I spent countless hours researching vacation rentals.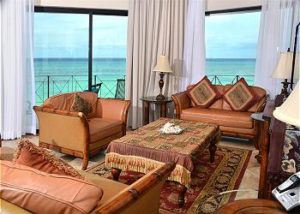 When I met Tonya Sarina, owner of Playa Beach Condos & Villas I knew I was done with being tied to the internet. Having rented through Tonya (which led me to writing these blogs!) what stood out for me was she was really on the ball, professional, organized and every little detail was looked after. And I'm not easy to impress 😉
And before you leave on your holiday you will have the name of a bilingual, licensed doctor in case of a medical emergency. A friendly doctor came right to our condo when our daughter got an ear infection & an hour later he had a prescription delivered right to us. Talk about service!
You will never regret using Tonya's services, and you certainly won't regret a trip to Playa & its warm turquoise waters and welcoming people!
"Sal Gal" (a very satisfied client working to promote Playa Beach Getaways!)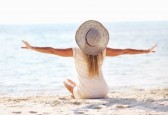 salgal@playabeachcondo.com ~~~ PS Catch us on Facebook & Pinterest