Elbert Hubbard once said, "No man needs a vacation so much as the man who just had one."
He hit the nail on the head as more times than not I've come home exhausted from holidays. A few years back I was determined come "hell or high water" to finally have a tranquil vacation. I pictured myself floating in a private oceanfront pool with an umbrella drink in hand without a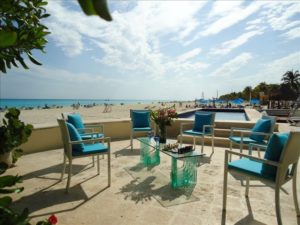 care in the world. Well there was no need for "hell or high water" thankfully as we found THE perfect villa in Playa through Tonya at PBC who helped us fine-tune our first ever villa stay!
Renting Casa Callaway proved to be one of THE best decisions we've ever made. Seeing the house for the first time we knew we'd hit the jackpot. Luxurious with a stunning design & perfect views of the ocean from every room in the house! The gourmet kitchen & open dining area made me shiver with glee; a godsend for a big family to share meals when we weren't dining out by by the pool. Talk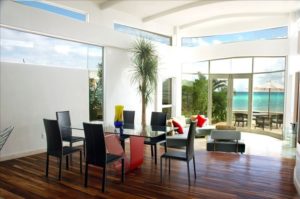 about being spoiled; outdoor speakers, WiFi, cozy loungers, 5 bathrooms, king size beds, daily housekeeping & pool cleaning.  My husband was bruised from me constantly pinching him & asking, "is this place for real"? Diana our fantastic house manager anticipated all of our needs & kindly provided us with two local cell phones which came in very handy!
Not only were we oceanfront, we were steps to the water which provided our kids all day ocean & sand play. Mornings we'd slide open our bedroom patio doors & step out to the terrace to witness the stunning sunrise. Plunging into our own private pool (see side pic!) was simply put, a heavenly luxury we've never had before. And it's only a ten minute picturesque stroll into Playa.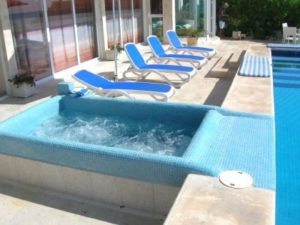 USA Today reports that private vacation rentals are exploding in popularity due to their privacy, lavish amenities, oversize space and best of all affordability. Why not have the whole pie instead of a slice by renting a private home while spending less than at a resort.  Renting a villa allows you to wake to your own clock, avoid lounge chair wars and noisy pools filled to the brim…Ahhhh, the perfect vacation with nothing to do and all day to do it!!
Take it from me, private vacation rentals rock & you'll be the rock star in your family if you rent this charming villa on your next vacation! Check out this property & more on this PBC's website!
"PLAYA Gal" (a very satisfied client working to promote Playa Beach Getaways!)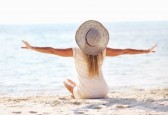 salgal@playabeachcondo.com ~~~ PS Catch us on Facebook & Pinterest