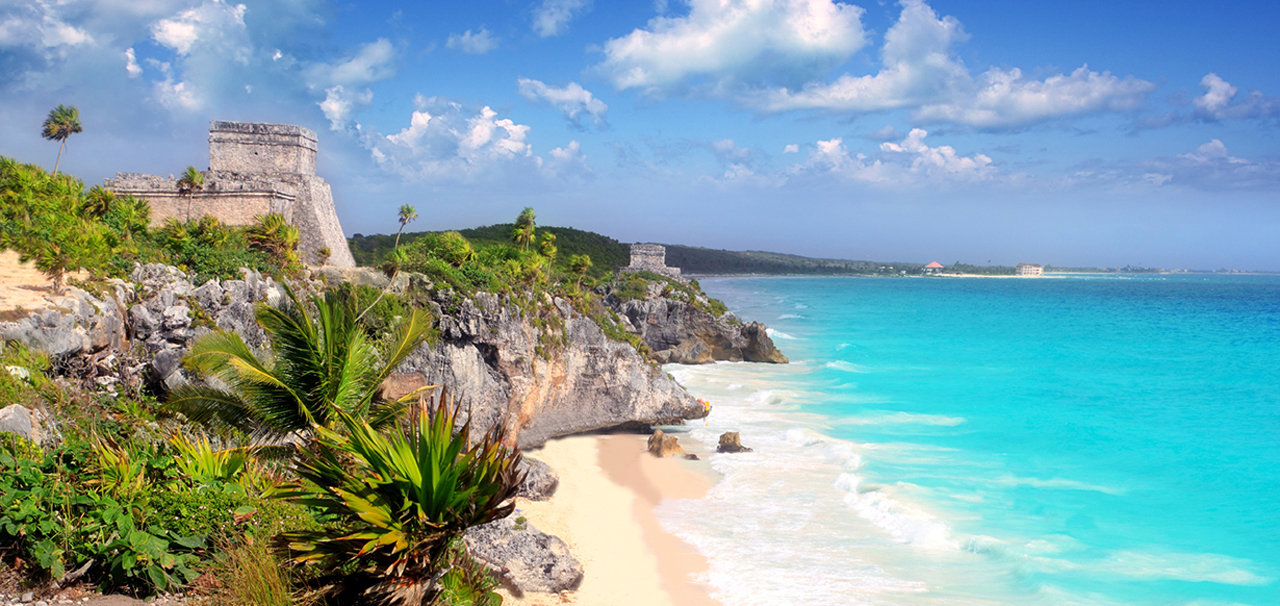 "The voice of the sea speaks to the soul."  ~
"I Left My Heart in TULUM Mexico"… OK, I know that's not how Tony Bennett's "I Left My Heart In San Francisco" song goes, but nonetheless, I did leave my heart in Tulum after my first visit there. Tulum had me hook, line and sinker. (Although this also happened to me when I first visited Isla Mujeres too!)
To be perfectly honest I wasn't prepared to like it as much as I did due to its 'new age, yoga-craze, bohemian, hipster, laid-back, supermodel/celebrity-driven' reputation. I'm really not into visiting pretentious places and spending an arm and two legs to do so but it turns out Tulum had other things in mind for me.
I was genuinely surprised that Tulum is much like the tale of three cities. One part (the beach) known for its spectacular white sandy beaches, sophisticated restaurant and bars, the second part (the town/pueblo) with its hub-bub of local taco joints, mom and pop shops and recently, breathtaking street art. And finally, the third part boasting ancient Mayan ruins overlooking the sparkling azure Caribbean Sea. So while Tulum may embody some of the above things that didn't appeal to me, there is so much more about this seaside gem that draws me back time after time.
While it's less than one and a half hours away from the 'spring breaker, mega resort, nightclub capital' known as Cancun, it feels like it's a completely different world altogether. It's been said that Tulum is the antithesis of Cancun, and I couldn't agree more after spending time in both places. (Now don't get me wrong, Cancun offers its own lists of things to do and see!)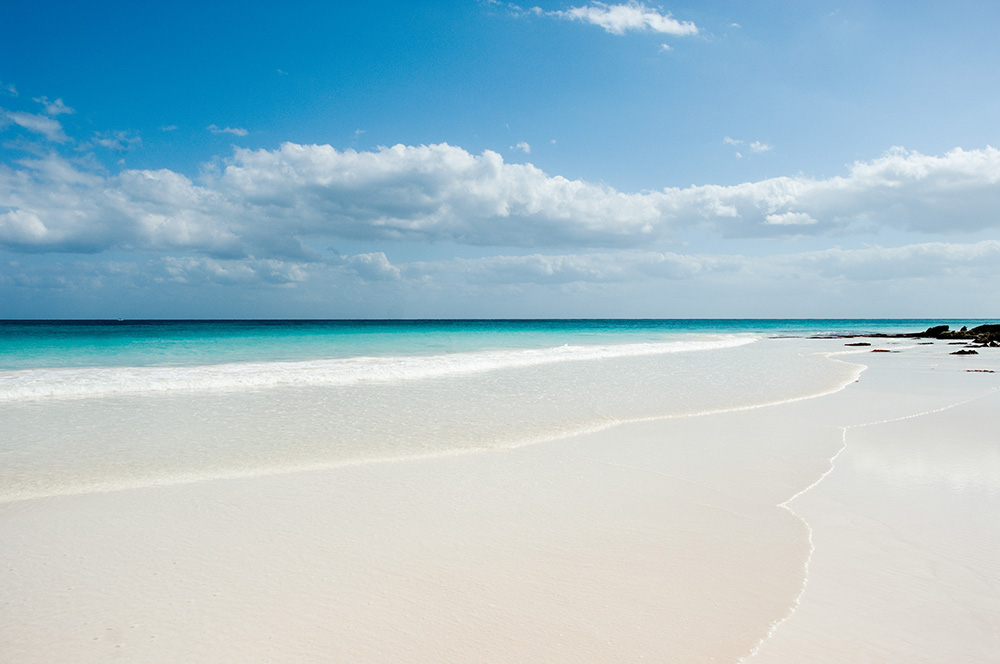 Situated on a glorious strip of powdery soft sand which separates the jungle from the Caribbean coastline, Tulum is the most southern point of the Riviera Maya corridor. Keep going and you'll end up in Belize.  At one point Tulum was Mexico's best kept secret and now everybody and their Facebook friends have their finger on the pulse of Tulum. It has become one of the most stylish beach destinations, attracting international, cosmopolitan open-minded travelers looking for a soothing paradise. There's a good reason why Corona has filmed their famous beer commercials here and also why celebrities like Heidi Klum, Reese Witherspoon, and Katie Couric to name just a few, have beaten a path here.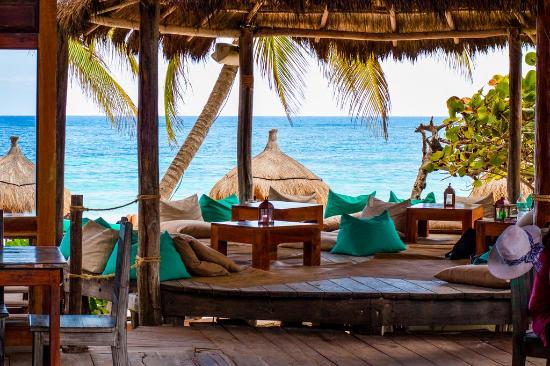 This is a destination that is easy to get to regardless of where you are staying in the Riviera Maya. We typically stay in Playa del Carmen (at one of Playa Beach Getaways fabulous condos of course!) and you simply hop the colectivo vans that will zip you out to Tulum in less than an hour for a mere 40 pesos. Cabs will take you there for a heftier fee, or you can rent a car to make your way there.
We generally get off in the centro part of Tulum to wander around, which is considered the old part of Tulum and which offers SO much character.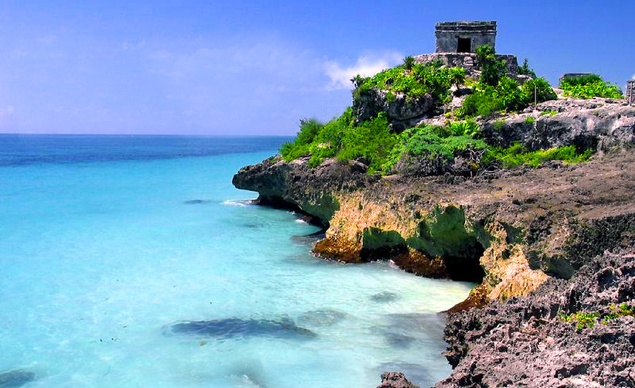 The old part of Tulum has that 'blueprint' authentic feel of what the Mexico of old was really like before it became touristy and revamped. This is where you will find family owned shops, restaurants, street vendors, bars (ahhh fish tacos) and souvenir shops.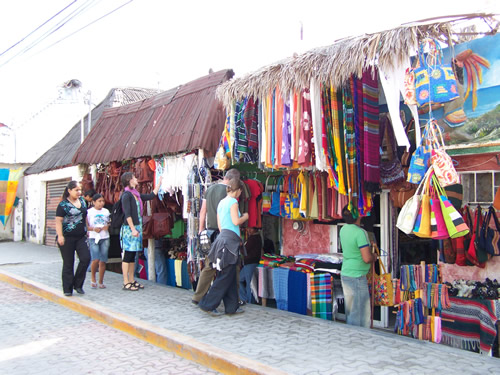 Walking around the old area and talking to the local shop owners, many of whom make their wares by hand is a cool experience. There are many bars and restaurants in this part of Tulum, and we enjoy stopping for a refreshing margarita where they hand-press fresh limes which make your mouth pucker with joy! Further, not only do they make a Cadillac margarita they also do it on the cheap. Treat your taste buds and take them to El Camello serving up freshly caught fish and seafood (you know it's good when it's packed with local fishermen!) Note: The town part of Tulum you can eat and drink dirt cheap…Warning: not so much on the beach but you can find some reasonable spots if you walk around.
While Tulum is known for its spectacular coastline, beaches, and ancient Mayan Ruins, it can now add street art to its bragging rights. Inspired by a street art project in Miami to give life to run down neighborhoods, a group in Tulum got together and invited local and international artists to paint murals within the community. Buildings and streets became a place where people expressed themselves and end the result  – pure magic and absolutely eye candy. Picture mermaid Madonnas, bejeweled colorful elephants and a collection of murals that reflect the culture, history, and beauty of Mexico. Well done amigos!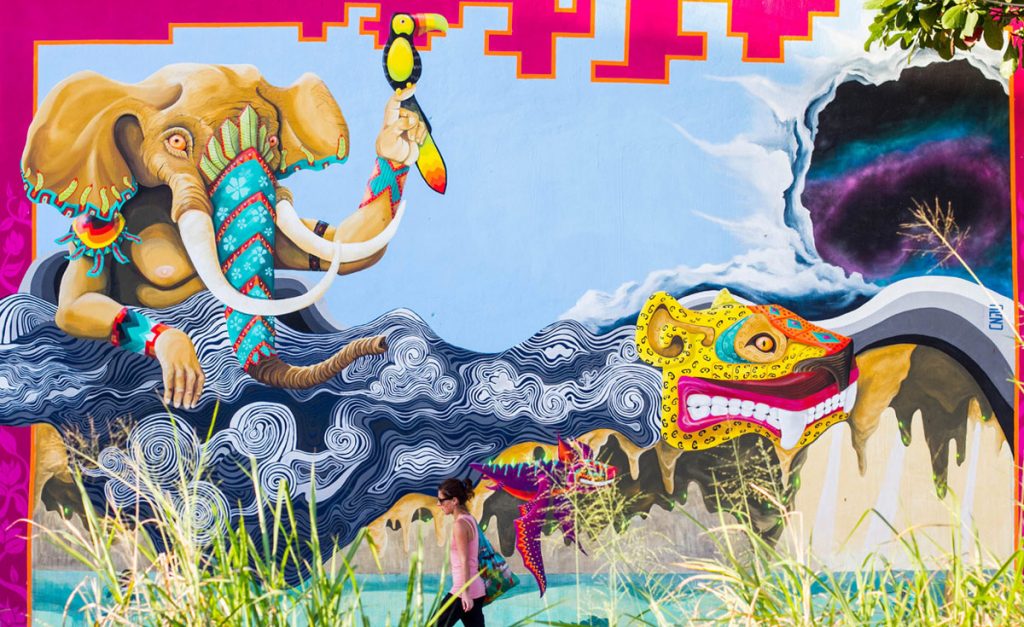 The boutique hotel Zamas offers weekly bike tours to see these works of art and afterward you end up at their bar sipping a margarita. This one is on my to-do list!
The Beach…Dun dun dun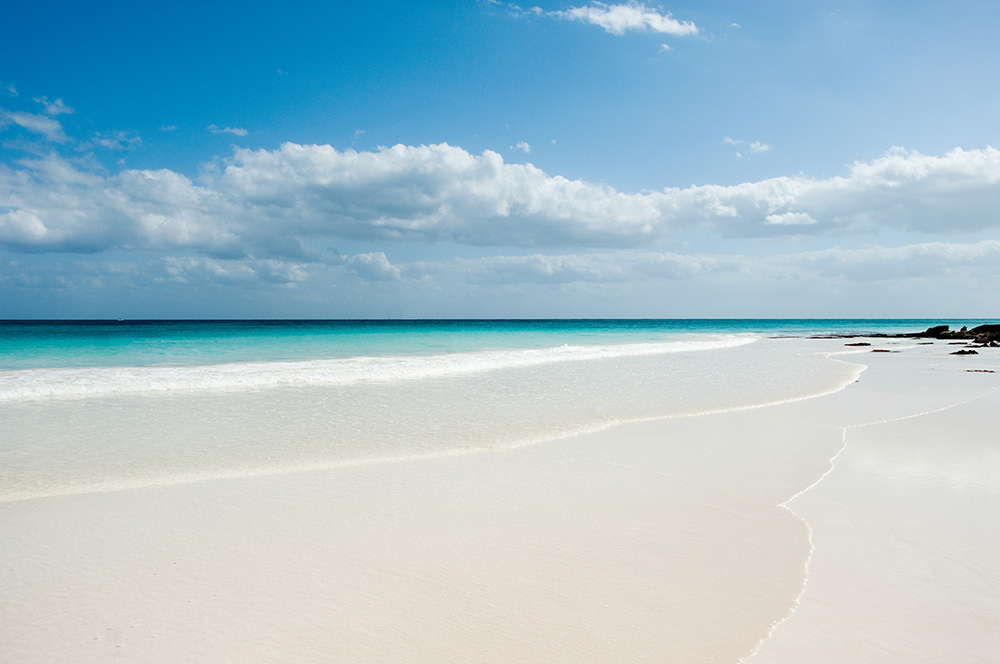 The first time I took a taxi down to the Tulum beaches I was like the family dog who sticks his head out the window taking in the sights, sounds and smells! The beach road is brimming with palm-laden coconut trees and as you pass your eye will catch palapa rooftops popping up through the jungle canopy. Truly spectacular.
The beaches of Tulum really need no explanation as to why they are considered some of the most beautiful in the world, once you lay eyes (and feet!) on them. Pristine, soft powdery talcum-like sand and crystal clear waters. You can stroll along the beach for hours and just bar hop all day (been there, done it and will do it again!) The beach has it all from funky tree-house type bars, to upscale restaurants with fine-dining options. I have a few favorite beach bars, and I always take newbies to La Zebra with its rustic chillax vibe, bean bag chairs and chaise loungers! But take my word for it, there are plenty of spots to grab a lounger or day bed and sip a cocktail while watching the waves roll in.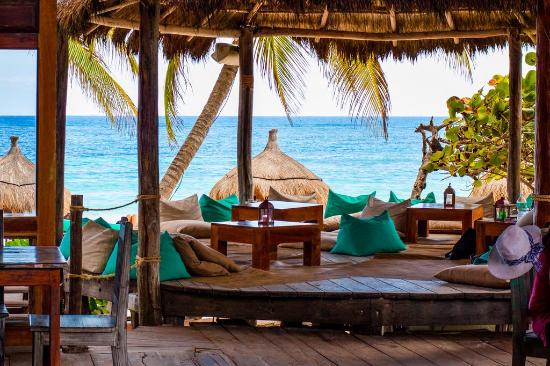 After my first visit to Tulum I actually felt revitalized even though I did not partake in any yoga on the beach or wear any flowers in my hair 🙂 A day was simply not enough to explore, eat, drink, swim and sightsee all the nooks and crannies of this happenin' spot. So we had to return…the very next day! And we usually make a trek back once or twice a year while vacationing in the area. Trust me – check it out once and you'll know what I'm blathering on about!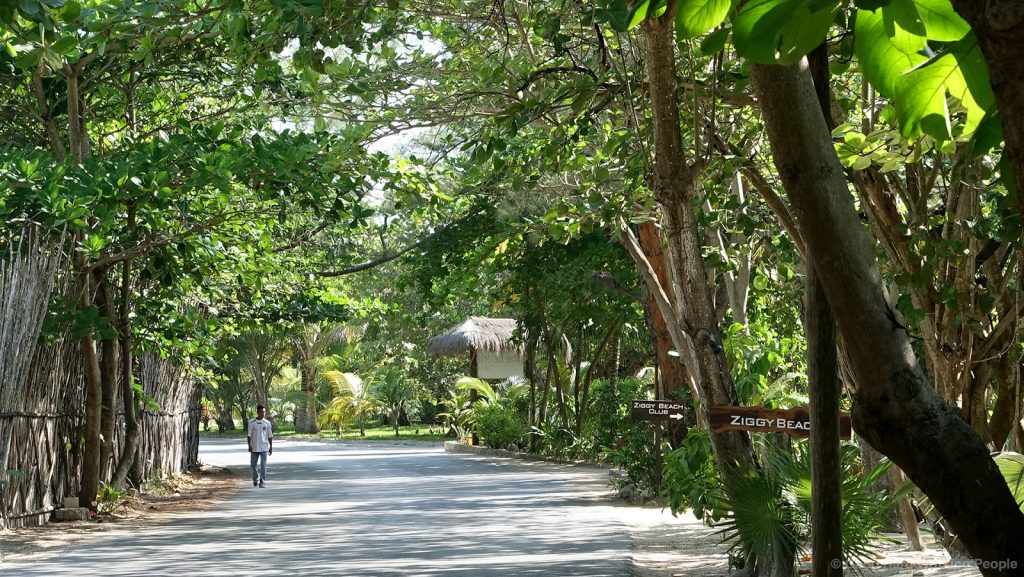 Tulum is the new IT girl and THIS girl can't wait to get back there! See you all in 2017!
Must-Do:
*Enjoy al pastor handmade tacos at Antojitos la Chiapneca. Be prepared to wait for a table as the word is out how good this is! (Opens at 5:30 PM).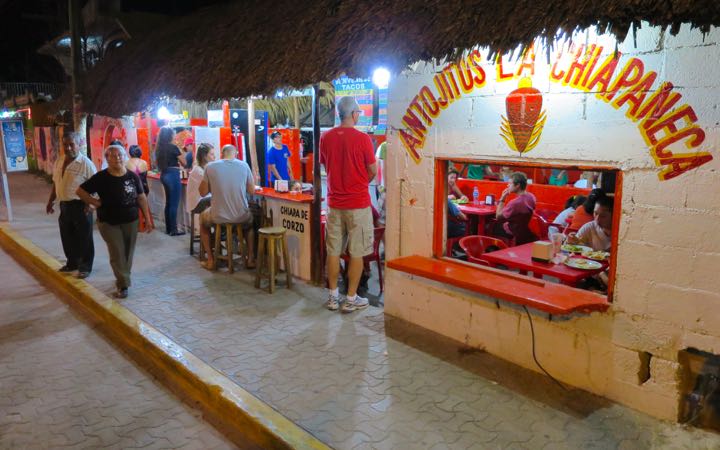 *Worth a pit stop is Batey's Mojito Bar which actually grinds cane sugar in the back of a converted VW Beetle! Talk about fresh and fun and man those mojitos are out of this world. Hiccup…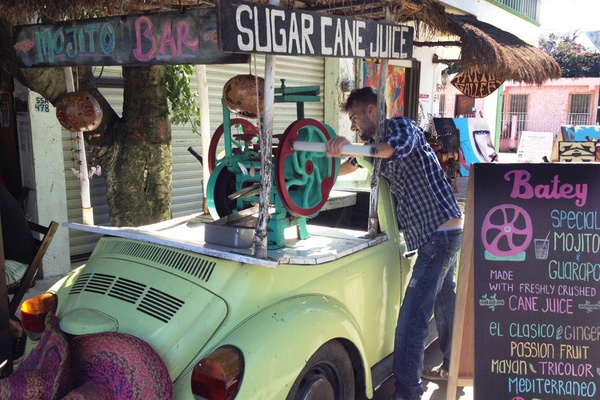 *Take a taxi to Mezzanine Restaurant for the most DE-licious Thai food on a cliff overlooking the sparkling Caribbean with views to swoon over.

*Grab a freshly picked coconut drink from the local stands around Tulum.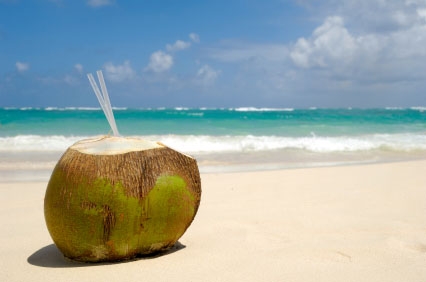 *Enjoy live music at Mateos on Monday & Friday from this treehouse restaurant/bar with hammocks & great views. This is one heckuva rocking place!

*Swim in a Cenote: Check out Dos Ojos off highway 307 (located north of Hidden Worlds) and swim into the labyrinthine river system that runs beneath the ground here. Take a guided tour (approx. $40US) and be sure to check out the Bat Cave.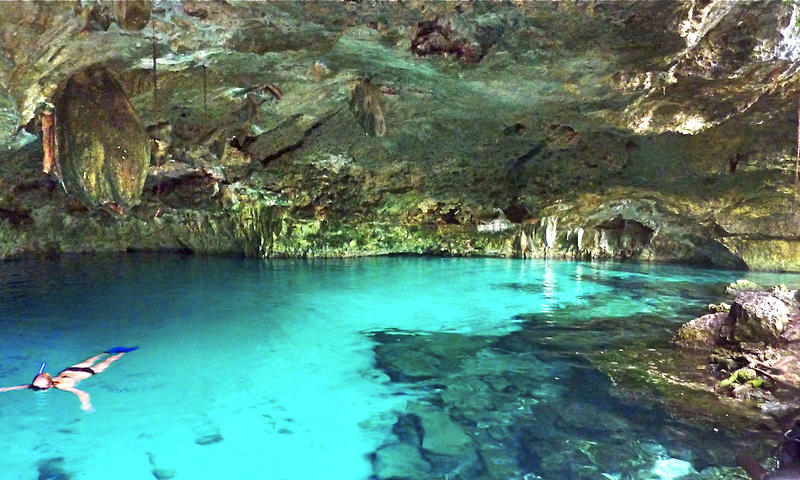 Ready to get your 'zen' on? Then email us today for the best in luxury oceanfront rentals! info@yourbestgetaway.com
"PLAYA" Gal (a very satisfied client now working to promote Playa Beach Getaways!)
Contact Sally Foran: salgal@playabeachcondo.com  ~~ PS Catch us on Facebook & Pinterest

Sally Foran is a happily married mom of 3, residing in Canada and is a frequent traveler to the Riviera Maya MX. She is an aficionado on 'everything Playa del Carmen' and writes with joy and passion about the area. She is also a witty blog contributor to Work & Family Foundation Canada, and NAVUT (offering professionals new to Ottawa the inside scoop!) Sally has also been awarded Blogger of the Week on TravelBlog.Org which enjoys over 250,000 bloggers world-wide.
Playa Beach Getaways is a Denver CO. based company owned by Tonya Sarina. Playa Beach Getaways / Your Best Getaway have earned a rating of Excellent by Trip Advisor, FlipKey and VRBO and continues to earn raves from satisfied guests who return time after time.