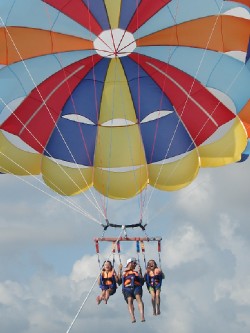 "Mom are we there yet?" are five words parents dread! Trying to find a vacation that suits the desires of our 3 children & extended family has been tricky. Well it used to be tricky until we booked a private villa with Tonya (PBC) in Playa del Carmen. Playa truly is a one-of-a kind beautiful beachside city in the Riviera Maya which is THE kingdom of nature, cultural and archaeological treasures!
Playa offers a long list of activities but here's our top 10 list; some of which we've experienced & a few we've yet to check off our "bucket" list.
1. Xel Ha: the world's most spectacular aquarium! Explore lagoons, creeks, & ancient caves. (this was a lifetime experience with the kids and we have the pics to prove it!)
2. Hidden Worlds" a family park; don't miss the cenote splashdown zipline, the only one of its kind!
3. ExplorEcoPark: zip lines, rafting & swimming through underground caverns & riding on amphibious vehicles. HOLA!
4. Tulum or Chichen Itza Ruins: tour these archaeological ruins & enjoy stunning views of the Yucatan coast.
5. Snorkeling/diving: mother nature endowed the Mayan Riviera with the 2nd largest coral reef in the northern hemisphere & Cozumel is a snorkeler's paradise!
6. Parasail from the back of a boat! Done this a few times with the kids! (see side pic)
7. Shop 5th Avenue: 1 block from the ocean is 30 bustling blocks of pedestrian only, boutiques with souvenirs, hair braiding, art galleries & fabulous food to suit everyone's needs! This is THE best people watching place, and you will meet people from all over the world!
8. Kitesurfing: use the wind to pull you on a kiteboard! Lessons available for both adults & kids (this is fun!)
9. Hop the ferry to Cozumel & once there check out ParadiseBeach water & bungee trampolines, water slides, huge pool ($12ea to rent water toys, otherwise $2 per lounge rental) Great fun for families!
10. Little Mexican Cooking School: an adventure in preparing & tasting authentic Mexican/Yucatan dishes! Older kids would really enjoy this fun experience with mom & dad!Located in the tranquil beach side town of Puerto Morelos; the only colonial town remaining on this coastline! 30 minutes from Playa.
The last thing you want to hear from your kids on vacation is they are "bored". With so many beautiful beaches, natural & historical attractions, it's guaranteed they'll never be bored here! Instead of asking, "are we there yet", they'll be asking, "when are we going back to Playa"!
Tonya and Jen of PBC will plan your trip from beginning to end & you will receive a personal friendly touch that few in the industry offer. With them at the wheel NOTHING is left to chance! Whether you are traveling on a budget or wanting extravagance all the way, everyone is treated the same; like a VIP.
Been there, done it and now writing about it!
Signing off for now,  "PLAYA" Gal (a very satisfied client now working to promote Playa Beach Condos & Villas!) salgal@playabeachcondo.com (PS-Click on the feed & follow my blogs!)