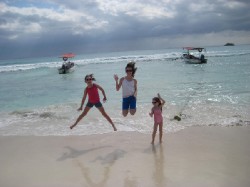 After a trip to Playa, a good friend of mine told me she feared for our safety the entire time we were away due to all the negative press Mexico gets. The reality is we hear this a lot from family & friends every time we travel there. The misconceptions & stereotypes of Mexico abound & there are still a few people who believe Mexicans ride donkeys, wear sombreros & enjoy afternoon siestas!  The same holds true for safety; people believe all of Mexico is unsafe. Trust me, we aren't dodging bullets & peeking out from behind the swinging doors of a saloon! (And NO, we Canadians don't live in igloos either!)
We have been bombarded with reports of shootouts, deaths & kidnappings in Mexico. The horrific violence that is jacking up the crime rate is largely in 9 of the 31 municipalities in Mexico*. The travel warnings are generally for the US/Mexico border towns that involve drug cartels which are about 2000 km's away from the Mayan Riviera. The Mayan Riviera in particular continues to remain safer than most large US cities. Crime is everywhere, including in our own backyard and chances are you'd be shocked if you checked out the crime statistics for your own city. Go on now, check it out!
According to the LA Times Business section, tourism to Mexico (especially resorts) is up 20% over last year with most tourists being from the US & Canada. Mexico delivers big bang for your buck. Not only does it offer some of the top sun & beach destinations, it also has archaeological sites, monuments, culinary & artistic experiences as well. And the lovely people of Mexico are warm, inviting and love to share the pride of their homeland with visitors.
Upon booking our vacation with Tonya of PBC rentals, the first thing she did was assure us about the safety of Playa. Tonya, her family & staff routinely travel there and have never had any issues. Having travelled to Playa numerous times, we also feel extremely comfortable taking our children there. A few common sense safety tips when traveling anywhere; secure your valuables, don't carry large amounts of cash, watch alcohol consumption, carry I.D, lock your doors & book your trip with a reputable rental company.
Playa is like a big bowl of fun & PBC rentals can be the spoon that serves up the best vacation you've ever had!  Tonya will move mountains to ensure your vacation is richer & more fulfilling than you ever imagined! So go enjoy that sunshine & kick up your heels!
VIVE MEXICO!
"PLAYA" Gal (a very satisfied client now working to promote Playa Beach Condos & Villas!) salgal@playabeachcondo.com (PS-Click on the feed & follow my blogs!)
*USA Today (Mexico's violence not as widespread as seems) 8/23/10