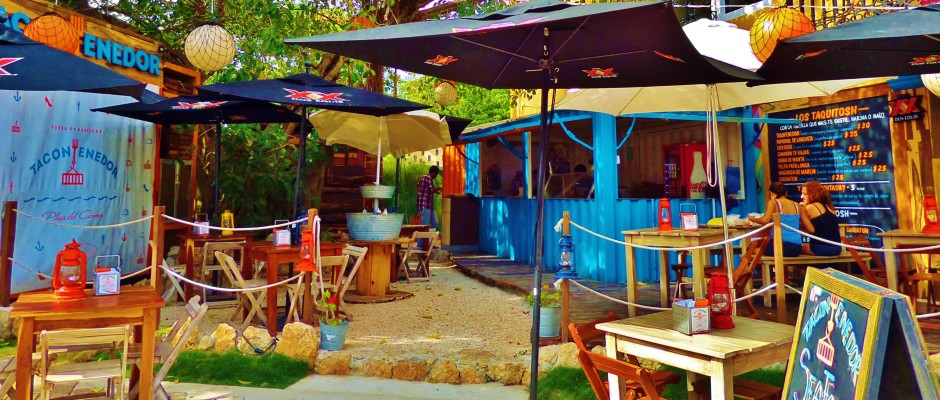 "You have to taste a culture to understand it". ~
The best way to learn about another country and its culture is through its food and drink. Hola tequila! Playa del Carmen ('Playa') has fast become a food enthusiast's paradise offering dynamic international cuisine while showcasing its Mexican, Mayan and Spanish heritage. And Playa's street-vendor scene is heating up too!
It's not enough that Playa offers a hip international vibe, beautiful beaches with turquoise waters, ancient ruins, lush lagoons, bustling beach bars and a happening nightlife, it also offers a delicious street-food scene . A food scene bursting with local flavors and bold ingredients for mere pesos.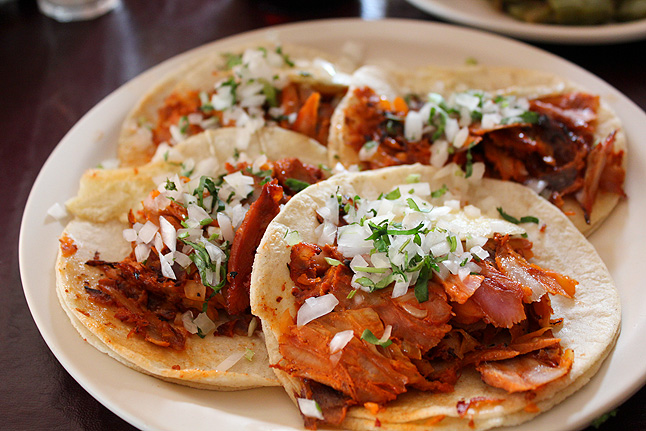 There is so much 'budget food' options in Playa. From food trucks to food carts to little mom and pop cantinas, to sidewalk stands emitting amazing smells with colorful ingredients that will titillate your senses. Why spend a fortune for lackluster dining on 5th avenue when you can eat like a king a few minutes away!
So come along on our street vendor tour of Playa to find some fresh homemade street eats that will have your taste buds in mambo mode!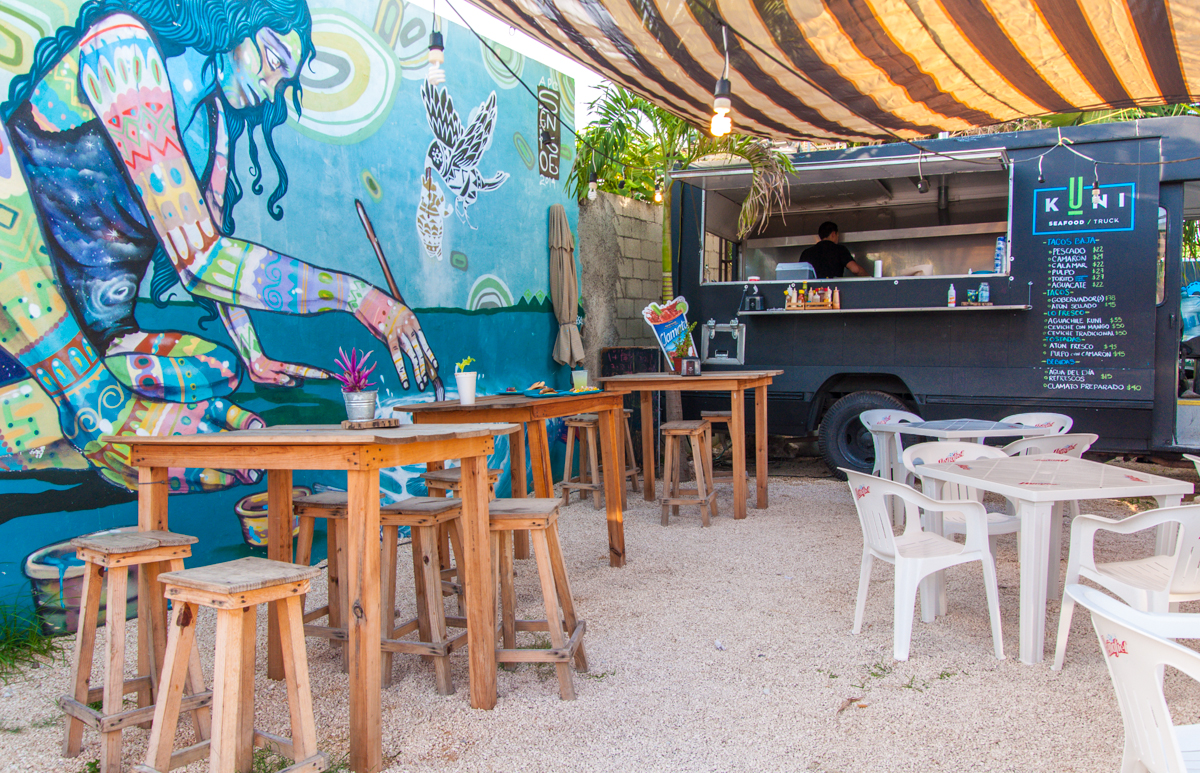 Food Trucks: I don't know about you but I gravitate to these colorful artistic 'meals on wheels'! They aren't wallet-busting, and the owner(s) tend to be passionate chefs who pride themselves on a small menu of what they do best.
Currently 5 food trucks have put out their welcome mat at a spot called StrEAT Park situated in a park located on Constituyentes Avenue between 60th Avenue and 65th Avenue. The trucks are offering up delicious Mexican food that delivers fresh flavors and the spicy kick you are looking for. Choices range from fresh Baja seafood and fish tacos, tortas, burritos, enchiladas, gourmet burgers, sandwiches, and salads to vegetarian options (just to name a few.)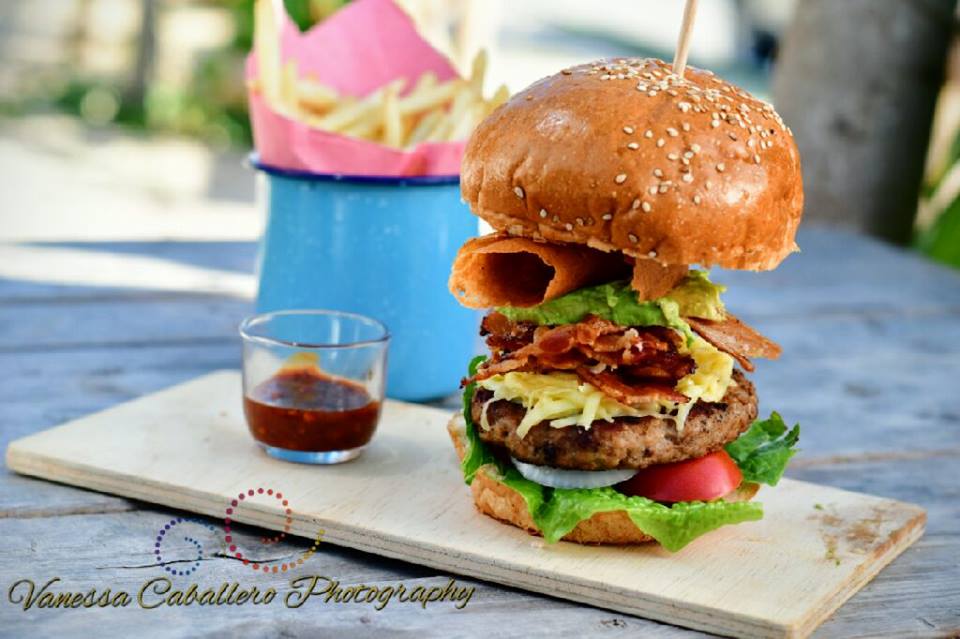 El Bunker: Calling one, calling all, if you are looking for a gourmet burger with all the works including homemade special sauces and some crispy fries, El Bunker is your truck. Show them some love.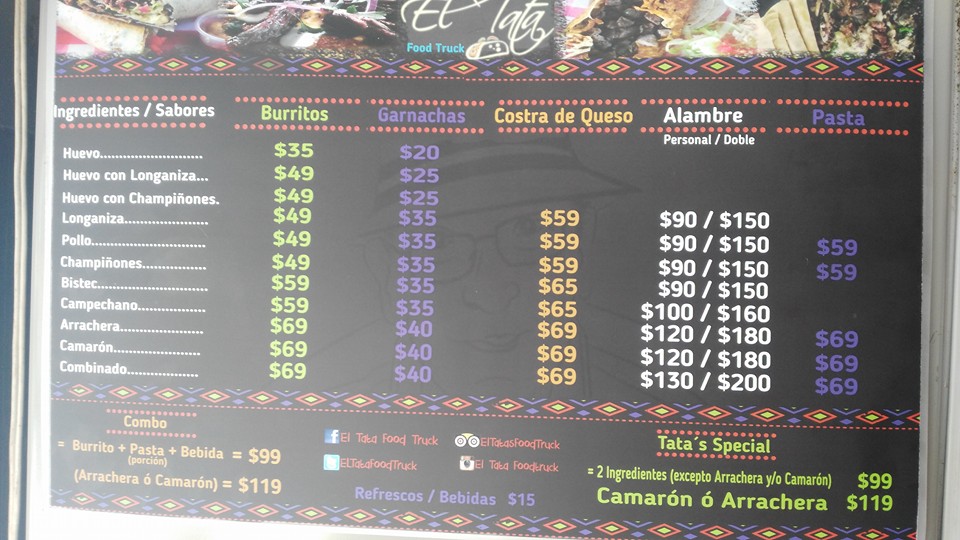 El Tata: Offering burritos, alambres (chopped grilled beef mixed with peppers, onions, cheese), garnachas, (small corn tortillas fried with shredded meat and crumbled dried Queso 'cheese' Oaxaca), tostadas and even homemade pasta! Check out the daily specials which include a burrito, pasta and drink for $99 pesos.

Kuni: this truck offers exceptional fresh Baja-style fish and shrimp tacos that will make you forget you ever had a fish taco anywhere else. They also offer delicious ceviches and vegetarian options. (Ceviche – the gift from the seafood gods!) And you haven't lived (or eaten) till you've tried their seared tuna tacos.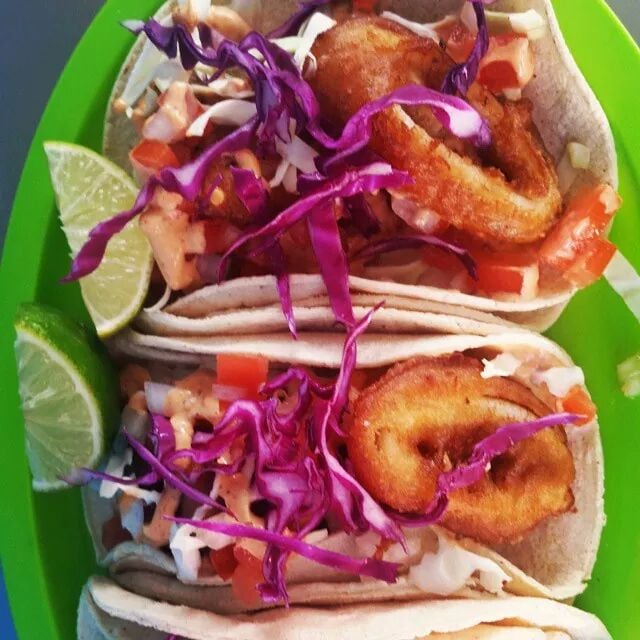 Porkavana offers up healthy fresh pitas, salads and vegetarian options made with love from locally sourced ingredients!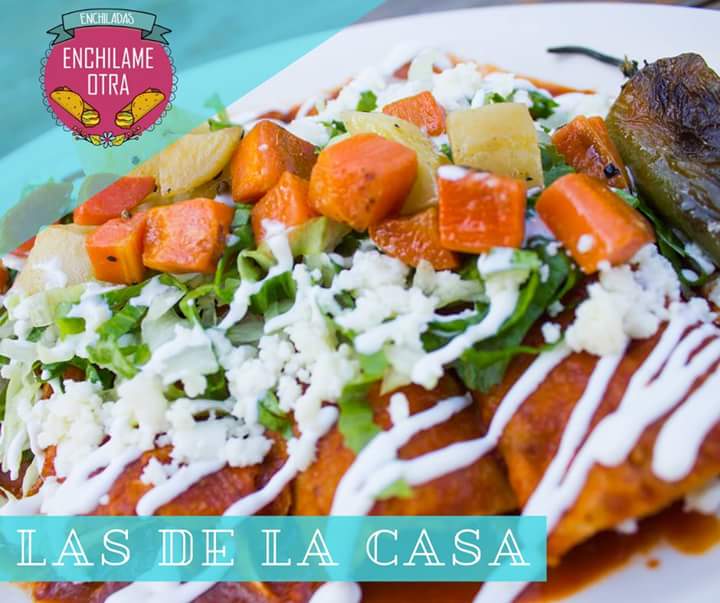 Enchilame Otra: Offering traditional Mexican options especially enchiladas. Fresh, tasty and cheap!
EMPANADA STANDS: Just try and walk past one of these stands making fresh empanadas before your eyes. The sights, the smell, the fresh ingredients – to die for. Choose your filling of beef, chicken, chorizo, cheese, pork, potato etc. Served hot and crispy with sides of pico de gallo, pickled onion, cabbage, salsas etc. Two locations: Ave. 30 and Calle 16. Calle 2 between Ave. 25 & 30 Str.
FOOD CARTS: You have to make your way to the local food carts on Juarez and 15th Ave. (which is the same street that the Cozumel ferry departs from). They serve a variety of Mexican items including tacos, quesadillas, tortas and my favorite, simmered pulled pork (conchita pibil) on a fresh panini bun paired with pickled onions and some caliente sauces. Talk about a fiesta in your mouth; one bite and you'll be oohing and aahing. (Price ranges from 12 pesos to 30 pesos.)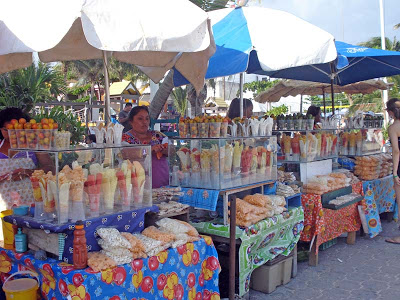 Last but not least are the fruit ladies down by the Cozumel ferry who offer up cones of fresh tropical fruit day in and day out.  Fresh mango, coconut, papaya, oranges, mandarins, melon, watermelon etc. They will also add some lime and chili for an extra pop of flavor!
Honorable Mention: If you see El Rey Del Taco do not hesitate to stop and grab a taco. One of the first food carts we ever tried in Playa, they offer up fresh beef arrechera tacos to die for. Named THE best tacos in Playa and perhaps the world according to some, so be prepared for a line up! (*I have heard rumors they are no longer at this location on 30th Ave & 20th Street, but hopefully they are still in town).
Asadero el Pollo (BBQ Chicken): Think succulent, juicy slow roasted comfort food – yep BBQ chicken. We started going to this place years ago as it's a great take-out place for a large group. They specialize in BBQ chicken with special spices – included in your take out are sides of  tortillas, salsa, rice, pickled onions, roast potatoes and re-fried beans. YUM. Asadero el Pollo is located on Juarez and 10th ave.
Tamale Stands: This ancient food is one of the most popular street food in Mexico and quite labor intensive to make. The tamale is made of a corn dough called masa, formed around a chicken filling then stuffed in a corn husk and steamed for hours. Best enjoyed steaming hot, along with a scoop of spicy salsa. Check out the stand on a corner near Mega, on 30th Ave. & 12 Bis Str. (Also at the food cart park at Juarez & 15th ave.)
While some people have concerns over street food safety, I can say that after years of eating from the local food carts we have never once fallen sick. Many of the servers wear hair nets, cook masks, and gloves for collecting the money. They also have hand sanitizer available. Typically best if you use purposed-squirt bottles filled with salsas and sauces. Always pick the stand with the longest line-up which means it's great food and high-turnover. Street food is a big industry and they want repeat customers, so they take food safety seriously.
All in all, Playa del Carmen is fast making a name for itself as the place to be in Mexico. Its scenic beauty, spectacular beaches and nightlife scene are second to none, but scratch below the surface and you'll discover scrumptious local street eats with a spicy kick in this beach-town paradise.
So now that that we've 'taco'd' about some great street food :), slip on your flip flops and get out on the street for some eats!
"PLAYA" Gal (a very satisfied client now working to promote Playa Beach Getaways!)
Contact Sally Foran: salgal@playabeachcondo.com  ~~ PS Catch us on Facebook & Pinterest

Sally Foran is a happily married mom of 3, residing in Canada and is a frequent traveler to the Riviera Maya MX. She is an aficionado on 'everything Playa del Carmen' and writes with joy and passion about the area. She is also a witty blog contributor to Work & Family Foundation Canada, and NAVUT (offering professionals new to Ottawa the inside scoop!) Sally has also been awarded Blogger of the Week on TravelBlog.Org which enjoys over 250,000 bloggers world-wide.
Playa Beach Getaways is a Denver CO. based company owned by Tonya Sarina. Playa Beach Getaways / Your Best Getaway have earned a rating of Excellent by Trip Advisor, FlipKey and VRBO and continues to earn raves from satisfied guests who return time after time.