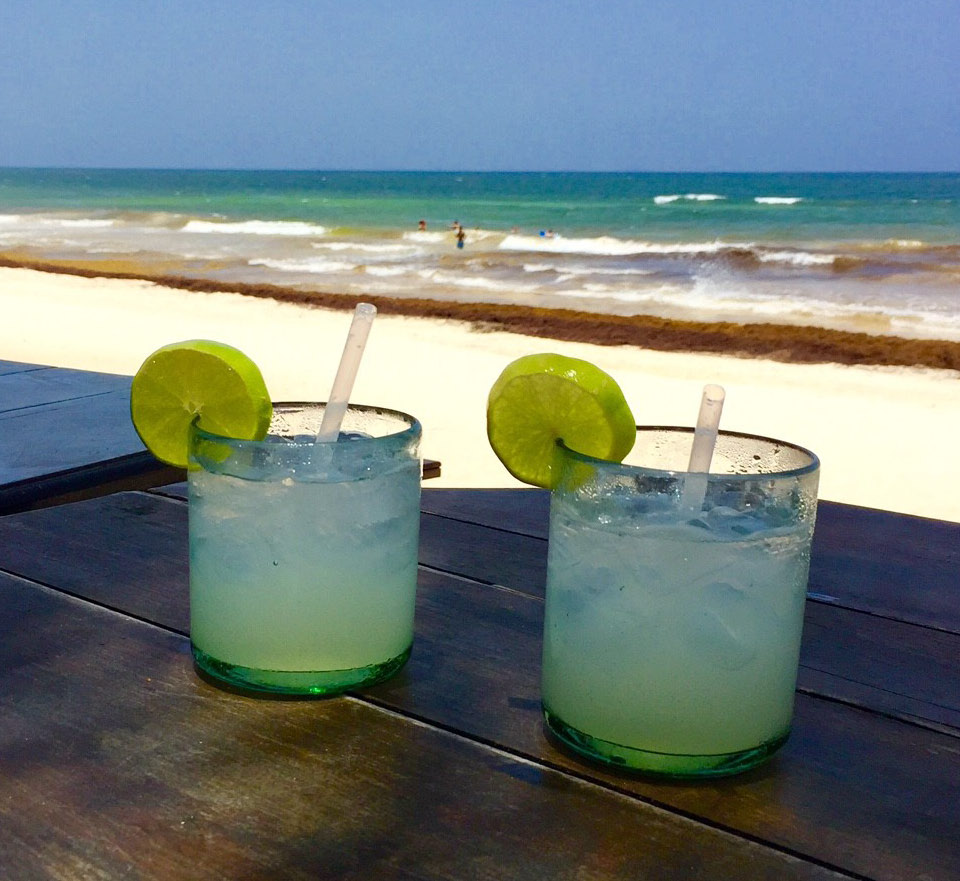 "Happy hour is the best hour!" ~
There are a lot of reasons to love Playa del Carmen ('Playa"), but one in particular is the amount of bars it offers. They run the gamut from roof top bars with stunning ocean views to sports bars, tequila bars, martini bars, craft beer bars, ex-pat bars… 'You-name-it' and they have it 'bars'. From expensive posh bars, to low-key palapa bars offering 2 for 1 drinks where you can stick your feet in the sand and watch the waves roll in. And you don't have to don flashy designer duds to get into most of these places. 😉
Here's a list to get you started. I think you can probably take it from there…!
SPORTS BARS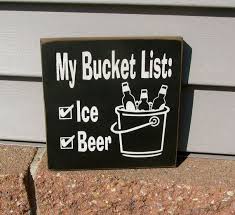 Just because you're in Mexico doesn't mean you have to leave the NFL or NHL behind (despite your wife's dirty looks!) There are plenty of good sports bars that offer big screen games with a good selection of beer etc. Many of them have TVs showing what's in season – football, baseball, soccer, hockey etc. We've caught a few tennis matches and Superbowl games in Playa that made for some memorable memories! So belly up to the bar!
End Zone Sports Bar is on 5th Avenue between 12th Street and 14th Street. This place has some of the best TV's for viewing some sports, so if you want a game, this might be the best place to see it. Open until 1:00am daily.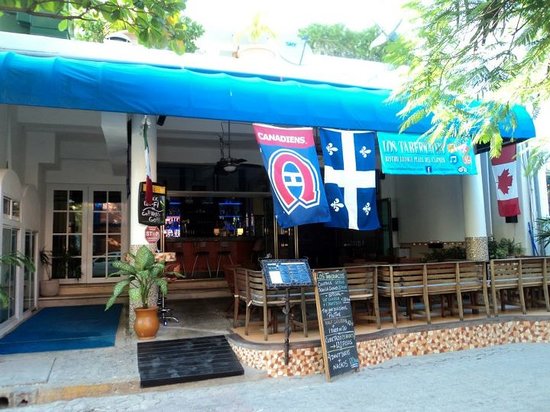 Los Tabernacos is a lively bar with a Canadian flair. Fun atmosphere on 10th Street between 10th and 15th Avenue. And if you are a Montreal Canadian's hockey fan, well this is THE place to be! They televise lots of sports events and are happy to take requests of what patrons want to watch!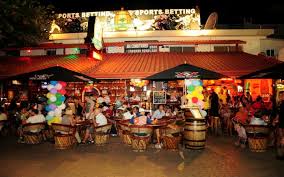 Tequila Barrel is a popular place on 5th Avenue where you can sit and watch people go by. They serve bar food with your typical good old American rock and roll playing in the background.  In the back of this bar is an air conditioned room where you can bet on sports.
Legends Sports Bar screams 'sports bar' with its jerseys, flags and memorabilia throughout the bar. Drinks and food are reasonable (typical sports bar food) and of course a focus on sports especially soccer. 16th Str. between 10 & 15th ave.
Sr. Dan's Margarita and Sports Bar is a small bar near the Cozumel Ferry. They have three TVs to watch from your bar swing while you sip their famous kiwi margaritas. Reasonably priced and a welcoming attitude!
Wah Wah Beach Bar has the largest HD screen (8×8 meters) in Playa and plays all the major sports events including pay-per-view.  They are big on daily specials including 2 for 1 drinks and on Sundays they serve up some hearty buffets! Second street and the beach.
BEACH BARS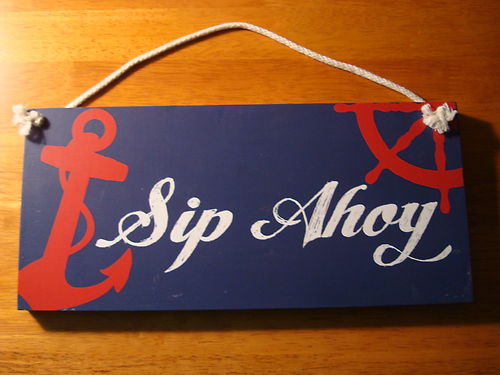 Could there be anything finer in life than sitting on a bar swing on a beach overlooking the turquoise Caribbean Sea and sipping a margarita? If you can think of something better (well other than maybe lying in a hammock overlooking the sea) let me know!
Here are a few beach bars to chill at.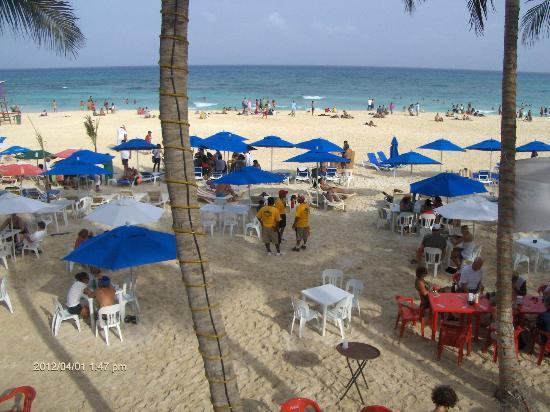 Wah Wahs: This place draws a big ex-pat crowd. It offers a nice beach area, and the drinks and food are well-priced. Sunday buffet, daily specials, and live rock music Tuesday-Saturday 1pm-4pm  and on Thursdays-Saturdays 7:00pm-10:00pm. Beach & 2nd Str.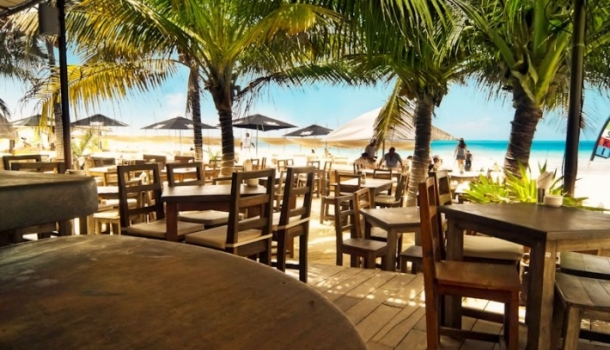 Zenzis is a hip beach bar offering food and daily music. You can also watch sporting events here. Loungers, tables, chairs and pretty decent food. Beach & 10th Str.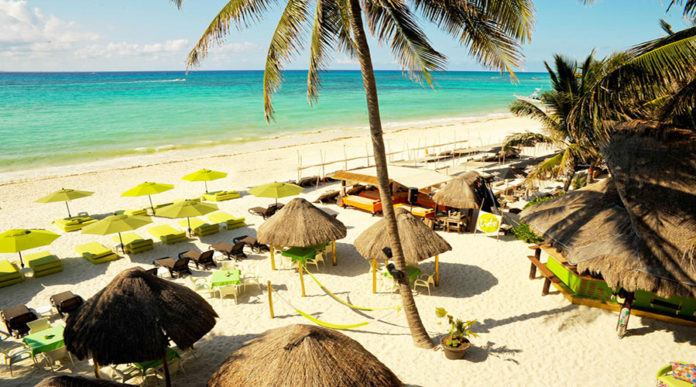 Lido is a smaller laid-back beach club offering drinks, food, loungers and nice views. They offer friendly service. On the beach & 10th Str.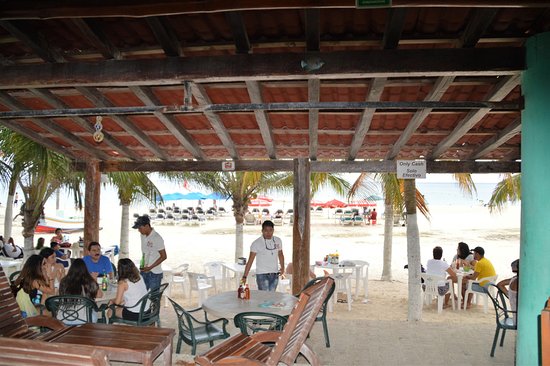 Yan Ten is a small Mexican beach bar/restaurant. Drinks are 2 for 1 all day long and a bucket of beer will cost you a mere 120 pesos. Excellent margaritas and friendly laid-back service.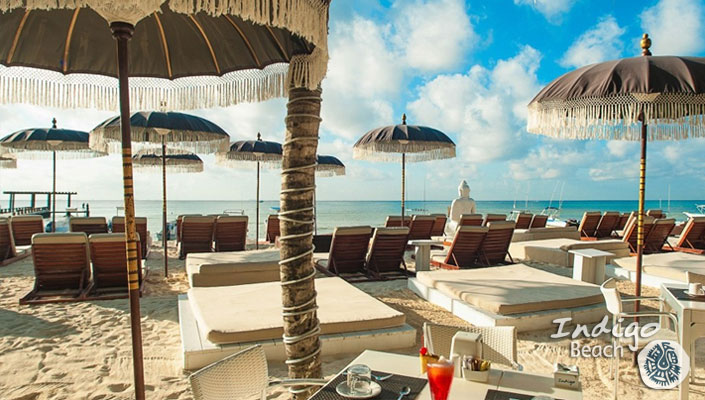 Indigo is more of an upscale restaurant and beach bar. There is an extra charge to rent their loungers. Nice brunch, and lunch, dinner menu. More expensive if you are just having a drink, but the Balinese decor really adds to the setting. Beach & 14th Str.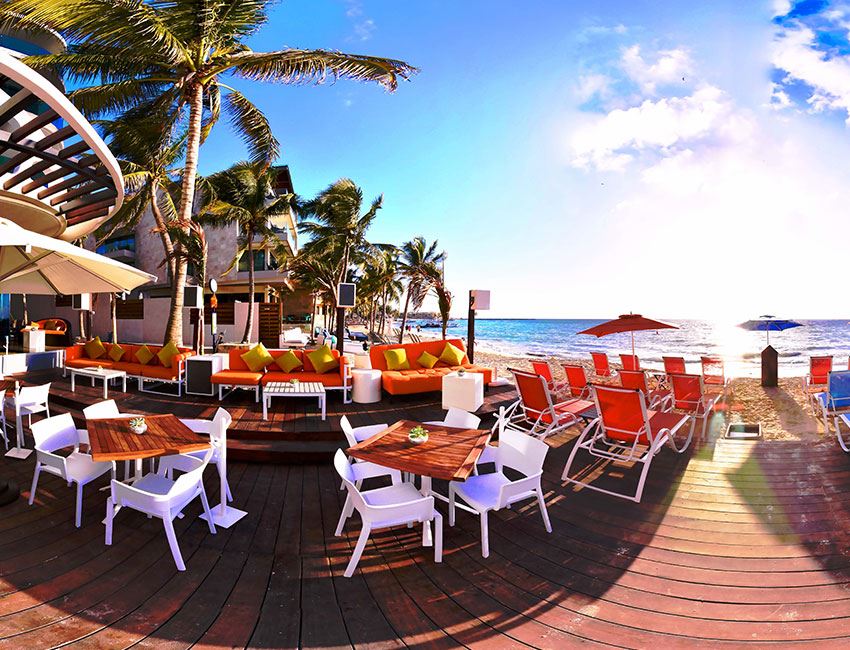 Keel Restaurant is the new IT bar in Playa at the newly built Carmen hotel located on the beach at 8th. It's a posh spot offering a South Beach vibe with colorful couches and seating areas. It's pricier than most spots mentioned in this blog however a change of pace for a special occasion.
Ex-Pat Bars
Bar Ranita is a small bar on 10th Street popular with expats. It's away from the hustle and bustle of 5th avenue and offers a nice casual indoor/outdoor seating area. This bar is the yellow building on 10th Street between 5th Avenue and 10th Avenue.
Moms Bar offers up some good old comfort food like mom used to make along with a good beer and friendly fun service. You'll find a lot of Canadians and Americans hanging out here on the 2nd floor of 30th Avenue and 4th Street on the second floor. Best part – not only is the food good, it's quite reasonably priced too!
Dirty Martini offers a fun vibe and an outgoing expat group. Tuesdays is 2×1 martinis, Wednesday/Saturday karaoke night! On 1st Avenue between 10th Street and 12th Street.
So take a stroll and check out these fun spots to chill at! As we all know, time flies when you are having 'rum'!
Coming to you somewhere from a bar in Playa!
"PLAYA" Gal (a very satisfied client now working to promote Playa Beach Getaways!)
Contact Sally Foran: salgal@playabeachcondo.com  ~~ PS Catch us on Facebook & Pinterest

Sally Foran is a happily married mom of 3, residing in Canada and is a frequent traveler to the Riviera Maya MX. She is an aficionado on 'everything Playa del Carmen' and writes with joy and passion about the area. She is also a witty blog contributor to Work & Family Foundation Canada, and NAVUT (offering professionals new to Ottawa the inside scoop!) Sally has also been awarded Blogger of the Week on TravelBlog.Org which enjoys over 250,000 bloggers world-wide.
Playa Beach Getaways is a Denver CO. based company owned by Tonya Sarina. Playa Beach Getaways / Your Best Getaway have earned a rating of Excellent by Trip Advisor, FlipKey and VRBO and continues to earn raves from satisfied guests who return time after time.