"A smile is the prettiest thing you can wear". ~ 

I will admit in my day I've enjoyed a few compliments about my "Colgate smile". I feel blessed throughout my lifetime without having had any major dental issues. And grateful at the same time to have been afforded dental insurance that many people do not receive. 
While it's wonderful to have a white healthy looking smile, oral health is more important that you may know. Obviously we need strong healthy teeth to chew food for good nutrition and to prevent tooth decay and gum disease. And if that's not enough incentive to get your electric tooth brush running, research indicates that gum disease can lead to serious health issues including the increased risk of heart disease. Yikes 🙁
So it's not enough that the Riviera Maya offers beautiful white sand beaches, sun, surf, Mayan ruins, eco-parks, lagoons, mouth-watering food, it now offers dental tourism!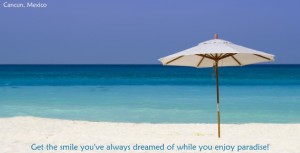 At one point many people beat a path to Mexico to escape the cold winter to lounge on the turquoise waters of the Caribbean. These days however, dental tourism is on the rise due to exploding dental costs, and those living without the benefit of dental insurance. Both Americans and Canadians alike are flocking in waves (pun intended) to the Riviera Maya for dental treatments and surgery.
The Riviera Maya is quickly expanding its dental tourism industry because of affordable dental treatments, high quality of services with the benefit of a vacation in a tropical destination. And for those without dental insurance, and increasing dental costs, treatments in the Riviera Maya are 40 to 75 percent lower than that of other countries. The most popular dental services among dental tourist patients are dental implants, ceramic veneers, crowns and bridgework.
Now before you hop a plane to Mexico, be sure to do your research on the dental practice you choose before you buy yourself a "mouthful" of trouble. Many tourists use dental brokers such as Dayo Dental, an Arizona based group that assists Americans and Canadians to find dental care in safe and affordable clinics. Dayo Dental vets and personally screens their dental partners, many who have trained in the U.S.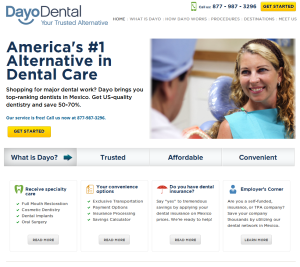 Others go on "word of mouth" (yes another pun intended) from family and friends who have had successful dental surgery performed abroad. Also double-up on your research and seek out evaluations from previous patients, and don't forget to ask for proof of competence before you make an appointment.
Now obviously you wouldn't pack your bags and go to Mexico to get your annual dental cleaning. But if you looking at major dental work that requires a second mortgage, then dental tourism might just for you.
Before you go, make sure you do your homework in advance to ensure a safe and positive dental experience. Dental care is a medical procedure that should be undertaken with care and adequate research.
*Note Playa Beach Getaways is not promoting dental tourism specifically and/or any particular dental broker. It is our intention always to offer you informative blogs on all things "Mexico".
Questions? Email us today at: info@yourbestgetaway.com

"PLAYA" Gal (a very satisfied client now working to promote Playa Beach Getaways!)
Contact Sally Foran: salgal@playabeachcondo.com  ~~ PS Catch us on Facebook & Pinterest
Sally Foran is a happily married mom of 3, residing in Canada and is a frequent traveler to the Riviera Maya MX. She is an aficionado on 'everything Playa del Carmen' and writes with joy and passion about the area.  She is also a witty blog contributor to Work & Family Foundation Canada, and NAVUT (offering professionals new to Ottawa the inside scoop!) Sally has also been awarded Blogger of the Week on TravelBlog.Org which enjoys over 250,000 bloggers world-wide.