"You only live once, but if you do it right, once is enough." ~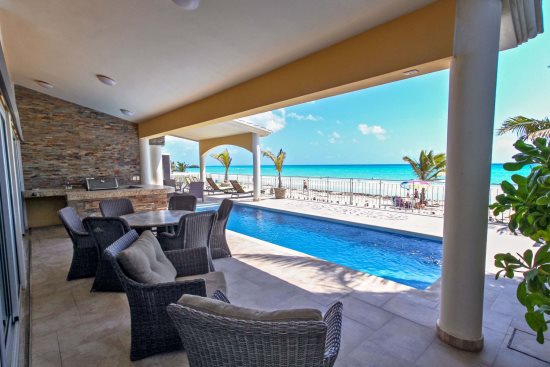 So you have made the very wise decision to book a luxurious condo or villa through Playa Beach Getaways to visit the jaw-dropping Riviera Maya for a week. The land of mysterious ancient Mayan ruins, lush rain forests, clear cenotes, fun-filled water parks, soft sand beaches, refreshing lagoons, seaside entertainment, gorgeous islands, party-in-your-mouth cuisine and welcoming hospitality. And might I add, amazing oceanfront villas like the photo above depicting the luxurious oceanfront Villa Rebeka situated in Playa del Carmen. And yes I can go on… 🙂
Given this area has become much like my second home, I often get asked what my favorite things are to do in the area, so here goes. Come along with me for a week at the beach!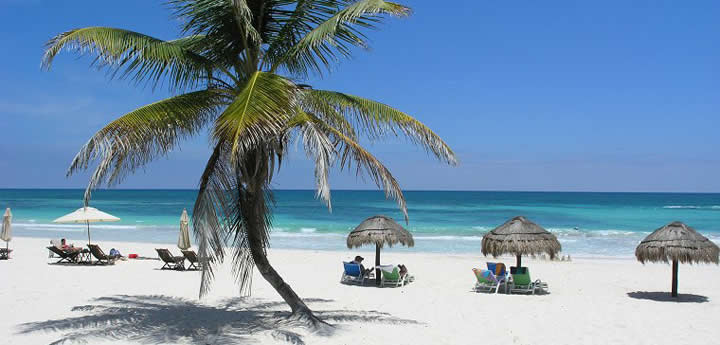 Day One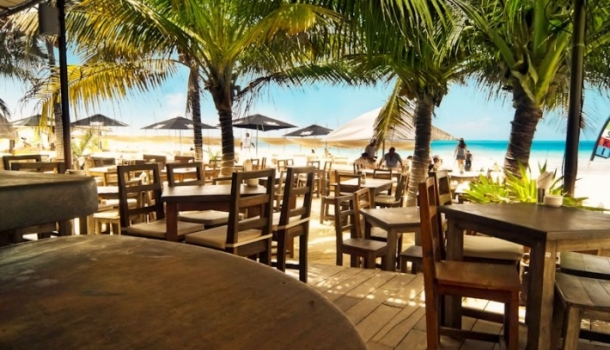 After being wowed by your luxurious villa or condo, throw on your flip flops and walk the lively beach lined with beach side bars, live music, water sports, and beach massage areas. Stop at Zenzi's Beach Club (10th Street & the beach) for a refreshing margarita. Hungry after a long flight? Then take your appetite and head to Los Aguachiles for a lunch you won't soon forget. There are 2 locations: Constituyentes (20th Calle – "Calle" is "Street" in English!) in between 5th & 15th Avenue and the other is on Calle 34 and 25th Avenue. Their fresh Mexican menu features a variety of Mexican and seafood items & is a landmark eatery. Try the seafood tacos and tostados! After unpacking and sipping a 'cerveza' (beer!) from your ocean front balcony, it's time to take a stroll on 5th Avenue for some people watching! Happy hour is abundant on 5th so look around for the best deal! Top off your first night with the most amazing dinner at Carboncitos, (off 5th avenue & Calle 4.) Authentic Mexican food, delicious steaks and seafood flambeed right at your table and THE most fun service in all of Playa! (Don't miss their gigantic cocktails which will lull you into a deep sleep your first night of vacation!)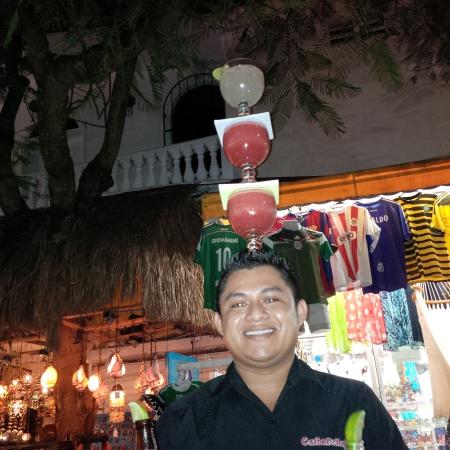 Day Two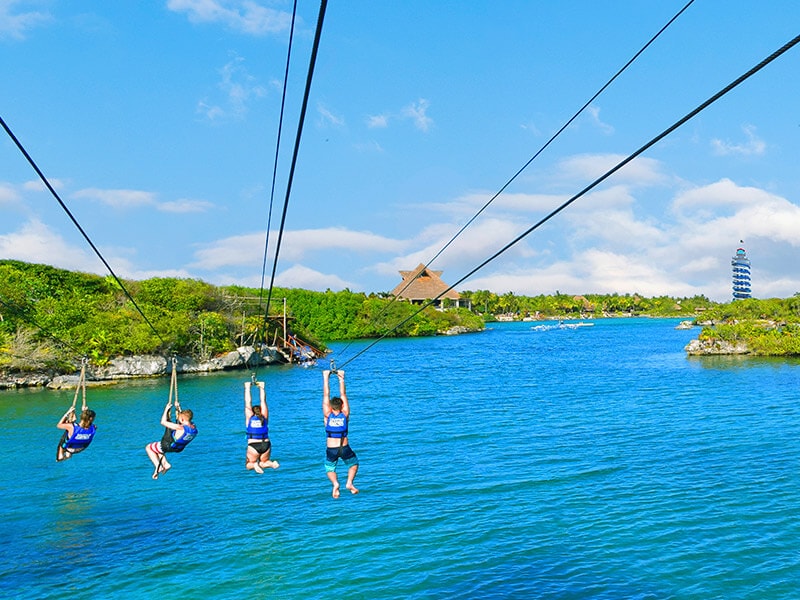 Wanna release your inner Tarzan on vacation? Then look no further than the natural eco-waterparks in the area such as Xcaret, Xplor and Xel-Ha just to name a few.  My number one pick is Xel-Ha which has been likened to swimming in the largest natural aquarium in the world! Float down a lazy river on an inner tube, jump off a cliff, zip line into the water, snorkel, scuba dive, or nap in the hammock garden. The cherry on the top? Xel-Ha is an all-inclusive food and drink package as well offering all you can eat food and drinks at their 5 restaurants. (*Book online in advance for savings & directions).  After working up an appetite, enjoy a dinner at La Familgia Italian Restaurant (on 10th Avenue & 12th Street). Huge portions, delish fresh pasta and pizza made in-house! That's amore! Wanna enjoy some nightlife? Then buy tickets to the wildly popular Coco Bongo Nightclub. Enjoy an exhilarating evening of spectacular music, Las Vegas-style performances and breath-taking aerial acrobatics. 10th Avenue & Calle 12. Doors open at 10:30PM. Or hit the dance floor at the many high-energy dance/disco clubs with live DJs that are mostly located on Calle 12th in between 10th Avenue all the way towards the beach.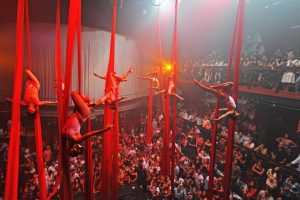 Day Three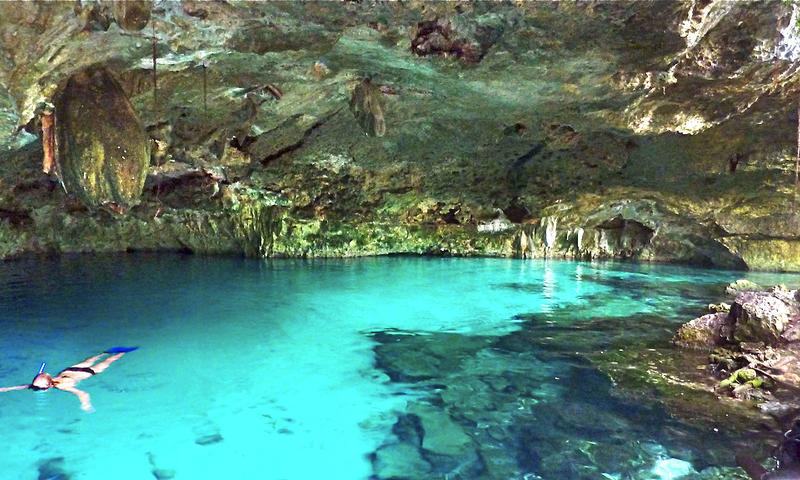 Before you start your third day, get your behind out of bed to witness one of the Riviera Maya's incredible sunrises. Mother Nature puts on an explosive show of color as the sun makes its glorious appearance over the ocean! There is SO much family adventure to be found in the Riviera Maya, including the rare opportunity to swim or snorkel in a cenote, which are the largest fresh water systems in the world where fresh water runs like rivers through underground cave systems. Be good to nature, wear only bio-degradable sunblock. (Lifeguards & guides available.) Rent a car or take a colectivo (city vans) that can take you to most of these cenotes. After this refreshing adventure, get a beach massage back in Playa for approximately $20US for an hour! Enjoy some tacos and a bucket of beer at a little Mexican spot called Yan Ten's. (On the beach at Calle 4). Wrap up your day with a memorable dinner at Aldea Corazon. You have not dined till you've dined in their courtyard built on a cenote in a jungle-like setting. A feast for both your taste buds and your eyes! 5th Avenue & Calle 14.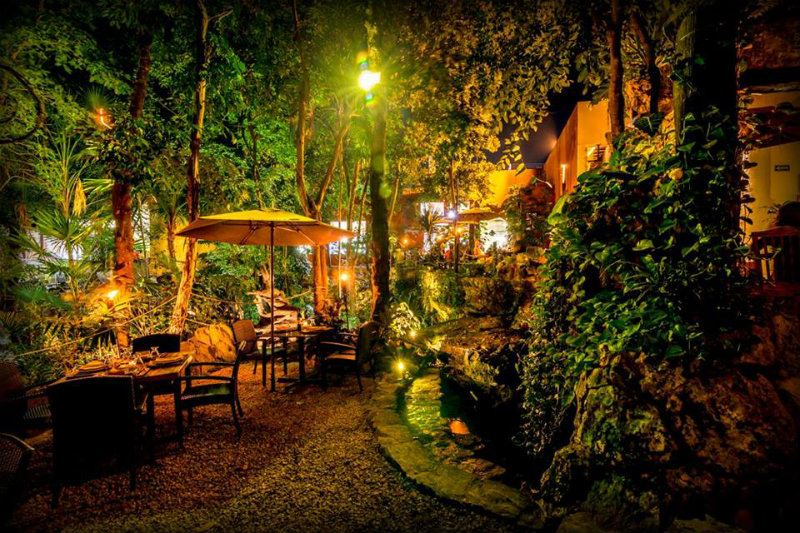 Day Four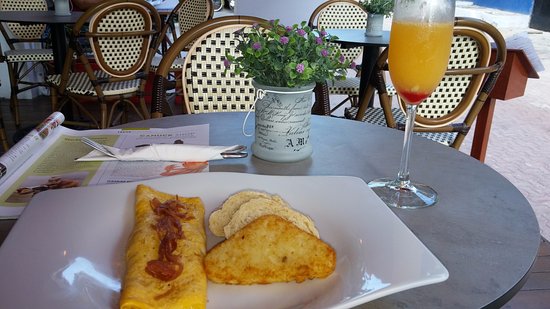 There is no better start to a day than a relaxing hearty breakfast. Take a walk up to Maison Pierre's Cafe (Calle 8 near the beach) where the Riviera Maya and the French Riviera come together in perfect harmony! Their freshly baked croissants will have you swooning and their refreshing mimosas will have you repeating 'Oui oui'! Are you more of a beach bum than a vine-swinging Tarzan? Then hop the colectivo for a day trip to the quaint town of Puerto Morelos (approximately 25 minutes north of Playa.) Here you will find a picturesque town with gorgeous beaches (and I mean jaw-dropping gorgeous) where you can snorkel, fish, or sip a margarita with your feet in the sand at the quaint beach bars dotting the shore. The friendliest of locals will welcome you! Enjoy a fun lunch at Unico Beach Club where the cocktails flow along with the quick jokes! After a long sunny day finish off your night back in the condo by walking up to La Brocherie for take-out rotisserie chicken and all the fixins' to enjoy on your terrace. Slowly roasted and perfectly seasoned – the best chicken in town! (15th Ave. between Calle 4 & 6th.) Want to enjoy Playa at night? Then take an evening walk after dinner for the best in Italian gelato being served up with macaroons at Amorino's on 5th Avenue and Calle 28th.  Get your gelato on a Thursday night when Art in the Street is on upper 5th Avenue where you can peruse the fabulous work of local artists and maybe take home a wonderful souvenir to hang in your home! 

Day Five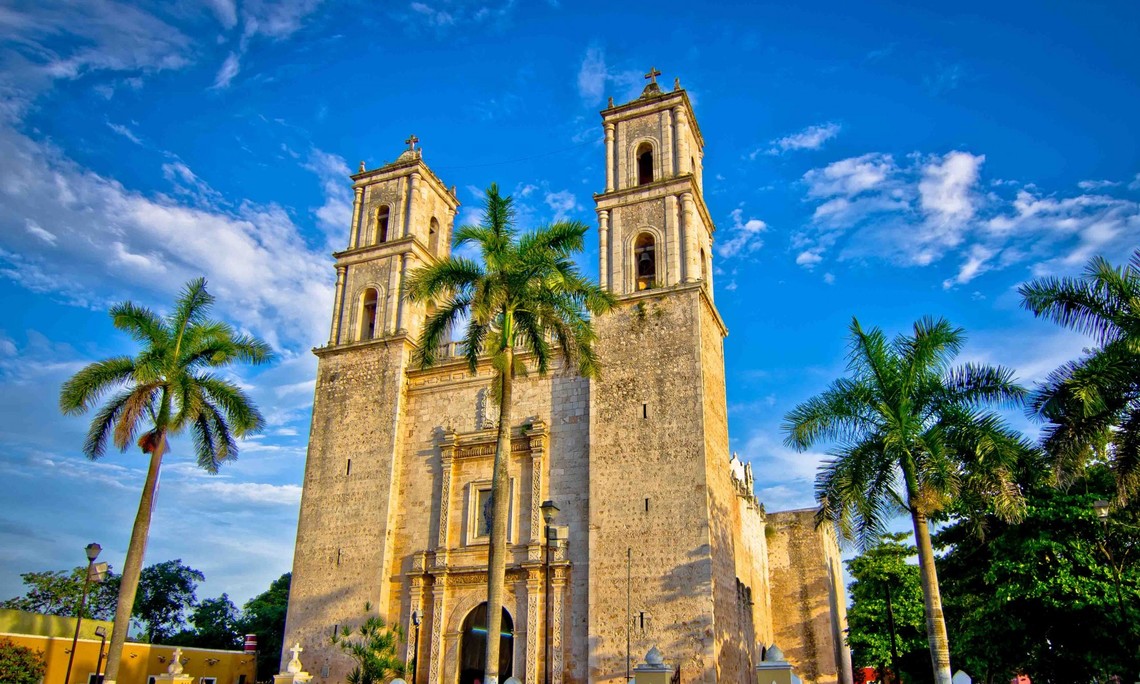 If you are a history or architecture buff, then the colorful city of Valladolid is right up your alley. This colonial town, home to a 16th century cathedral, has preserved its colonial flavor and customs.  The architecture around the Main Plaza and its many historical buildings makes for some eye-catching pictures. It's definitely worth the trip, especially since it offers easy access to a lot of the nearby Mayan ruins (Coba Ruins is AMAZING) and cenotes. And if you are like me who likes to avoid over-ridden tourists spots, this place is calling your name. 🙂 (Approximately 1 hour and 40 minutes via car from Playa del Carmen). Finish off this day with a unique dinner in Playa at Alux Restaurant which is located in a cave/cenote.  Alux has been featured in BuzzFeed as one of the most unique bars and restaurants in the world! Descend the candle-lined stairs into a subterranean lounge, which is spread throughout a system of caverns and outfitted with colorful lights and natural stalagmites and stalactites. Talk about a one-of-a-kind dining experience! Located outside of the center of Playa Del Carmen on Av. Juarez between 65th & 70th Avenue. You will need to drive here or take a taxi. Don't want the night to end? Then kick back with your feet in the sand at Fusion Bar on the beach at Calle 6. Live music, nightly fire shows & candle lit tables all create a tropical mood!  
Day Six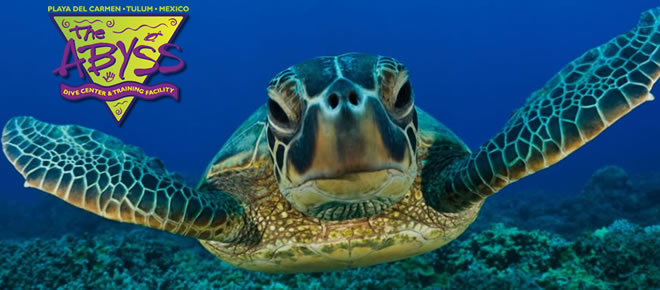 If you are more comfortable below the sea than above it, then Abyss Dive Center is your cup of tequila!  The owner Dave who hails from Canada has spent 20 years building his business one dive at a time. He and his team pride themselves on  providing memorable dives, and sharing their love of the ocean and cenote environments.  They dive in small groups ensuring protection of the reefs with safety at the top of their list. Contact Abyss Dive Center. After you have worked up an appetite after a dive, it's time for lunch. Head over to a little no-frills local seafood spot just across from the beach. Amaranto Bistro offers excellent shrimp tacos, to-die-for ceviche and fresh catch of the day for very little pesos! On Calle 14th mere steps from the beach. For those that like to be pampered while on vacation, a mani-pedi is on the to-do list! Check out Monica's Salon on 5th Avenue at Calle 26. Chic atmosphere, luxurious chairs and top-notch service! End your perfect day with a delish steak dinner at 500 Grammos Restaurant. The steak will melt in your mouth. And for those vegetarians, you will not be disappointed with their homemade pasta! Just off 5th Avenue between Calle 34 & 38th.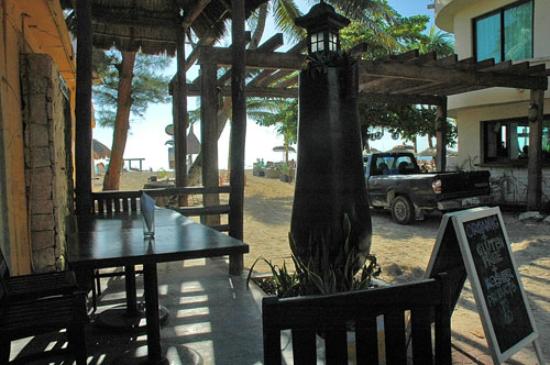 Day Seven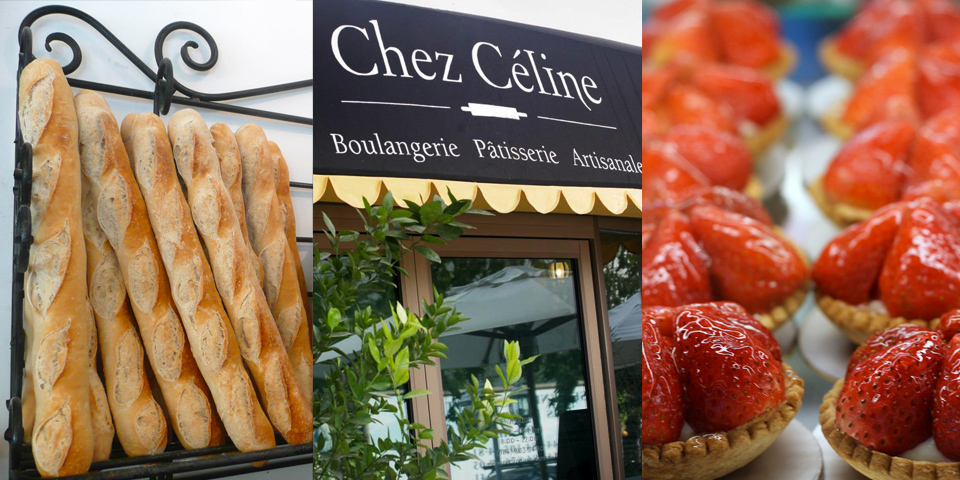 Before you start packing for home, make an early morning run to Chez Celine and enjoy breakfast in the Paris cafe-like atmosphere which offers fresh French inspired food at affordable prices. On the menu, espresso, omelettes, sandwiches, salads and their fresh pastries. Ooh lala! Go early as there is usually a crowd!  (5th Avenue & Calle 34). If you want to enjoy your last full day lounging around your condo, then make a pit stop at Caseus Epicerie to pick up some impressive cheese for a wine and cheese lunch on your balcony. The cheese is 100% organic and artisanal and is so gouda! They also offer deli meats, fresh baguettes and jams/marmalades. Located at 25th Avenue between Calle 30 & 32nd. Don't forget to pick up a nice bottle of wine at L'Europea at the Quinta Alegria Mall on 5th Avenue and Constituyentes! Enjoy your last dinner in Playa at the Mediterranean inspired Como Como Osteria Restaurante. 10th Avenue between Calle 12 & 14th.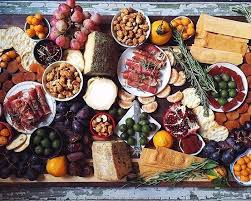 Day 8 (Last day – sniff sniff)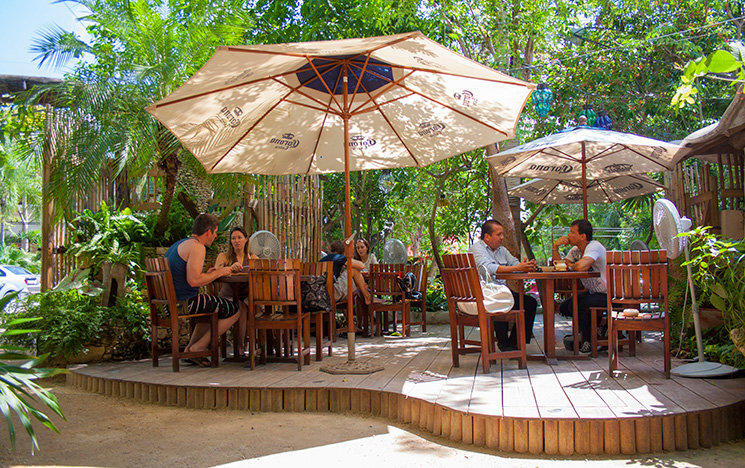 If you are one of the lucky ones who doesn't have an early flight home, then take advantage of having breakfast at one of Playa's landmarks, Cueva del Chango! Enjoy lunch in a tropical garden setting, with a restaurant that enjoys colorful glass bottles embedded within its walls.  In the center of the restaurant is a pond replete with Koi fish, lily pads and turtles. Food is excellent, breakfast is hearty and all so tasty at reasonable prices. Try the all-star Mexican brunch dishes such as chilaquiles, huevos divorciados (eggs cooked to your liking topped with half green and half red salsa.) Make sure to try their freshly squeezed juices! Calle 38 in between 5th Avenue and the beach. And if you still have time, have one more of those super-duper beach massages so you will be all relaxed for the flight home. Not a bad way to end a week at the beach I'd say!
Enjoy your week at the beach amigos!
"PLAYA" Gal (a very satisfied client now working to promote Playa Beach Getaways!)
Contact Sally Foran: salgal@playabeachcondo.com  ~~ PS Catch us on Facebook & Pinterest

Sally Foran is a happily married mom of 3, residing in Canada and is a frequent traveler to the Riviera Maya MX. She is an aficionado on 'everything Playa del Carmen' and writes with joy and passion about the area. She is also a witty blog contributor to Work & Family Foundation Canada, and NAVUT (offering professionals new to Ottawa the inside scoop!) Sally has also been awarded Blogger of the Week on TravelBlog.Org which enjoys over 250,000 bloggers world-wide.
Playa Beach Getaways is a Denver CO. based company owned by Tonya Sarina. Playa Beach Getaways / Your Best Getaway have earned a rating of Excellent by Trip Advisor, FlipKey and VRBO and continues to earn raves from satisfied guests who return time after time.