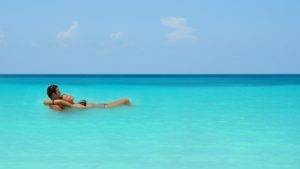 "Life's a beach, enjoy the waves"…
Some of us were smugly enjoying a green Christmas until Old Man Winter said 'na-na-na-na-na" and dumped a ton of snow on us. We aren't feeling quite so smug right now I can tell you that… 🙁
While the snow-laden trees in my backyard indicate winter has arrived big time, thoughts of Playa del Carmen, MX make me feel warm and fuzzy all over (and no it's not the hot rum toddy that's talking!)
With Playa in mind, I thought it was a good time to do a year in review of this beautiful paradise.
MALLS/SHOPPING
It seems 5th avenue in Playa del Carmen is always undergoing construction for something bigger and glitzier. In the past two years two new malls have been built, and for those of you who don't think Playa needs another Forever 21 or Victoria's Secret, there are many who agree with you. However there are those who love to shop on vacation, and find the new malls a welcome addition.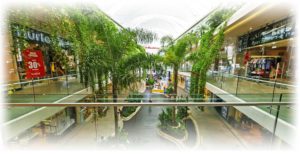 Quinta Alegria Mall is situated right on 5th avenue at Constituyentes and it is a beautifully designed mall with towering palm trees and filled with lovely landscaped greenery that is eye-catching. It has a Starbucks, Victoria's Secret, American Eagle, The Body Shop just to name a few, along with L'Europea Wine & Liquor Store. On the top level there is a department store chain called Sanborns which includes a pharmacy and bakery and also enjoys a rooftop restaurant with a patio that overlooks 5th avenue with ocean views. They offer a weekend brunch that is hearty, fresh and well-priced.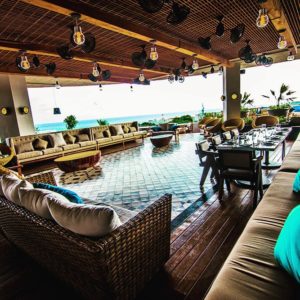 Calle Corazon Mall opened this past fall, occupying the former quaint cul-de-sac street Calle Corazon. This four story mall & hotel will house over forty stores such as H&M, Steve Madden, Calvin Klein, Sephora, Michael Kors, Puma, etc., and is home to 3 new restaurants (CATCH, Cinco & C-Grill) within the new Thompson Hotel. The rooftop playground (because it's big enough to call it that) and the infinity pool is an ideal spot to enjoy a cocktail while taking in the expansive Caribbean views.
DINING & DRINKS
We've had some really super-duper "party in your mouth" meals this past year and enjoyed exotic drinks with fantastic views. I've covered them in other blogs but here's a round-up. Some of these spots are long time favorites, and others are new to the scene.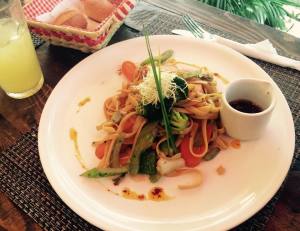 A family owned Italian eatery where both locals and tourists have long called it home. Our good friend Edith who is a local invited us to dine there, and you know when a local recommends a place it's going to be great! The lunch specials run around 70-90 pesos and include a drink & dessert with your daily special. The menu runs the gamut from Italian, to Mexican to Thai to fresh seafood and more.  The prices, atmosphere and delicious food just cannot be beat. 30th Street between 25th & 30th Avenue.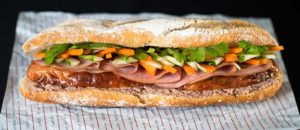 is a brand new restaurant that has opened up on 5th between 26 & 28th street. It offers a Mediterranean fusion menu. Their main specialty is their homemade sausages that come in different flavors on fresh baguette. Service is impeccable and oh so friendly, and the margaritas aren't too shabby either – trust me! It's also a great place to also kick back & people watch!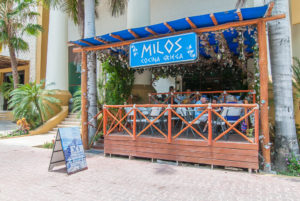 is the only Greek restaurant in Playa, and it's humma humma HUMMUS good! The food is fresh, filling and made with love. Chef Alex typically makes a visit to your table to ensure all is to your satisfaction. They also will give you a coupon for a return visit!) 38th street near beach.
Mariskay Seafood located on 10th avenue between 12th & 14th is a fantastic new find. You can eat in or take out fresh seafood. Of particular delight was a meal of Caribbean lobster tails, garlic shrimp, and mussels with Caribbean rice that was very flavorful and brimming with seafood. The prices are very reasonable for the quality of seafood they are turning out, which makes this spot a favorite to return to time after time.

Aroma Cilantro

on Calle 8 and near 5th avenue serving up some fusion Mexican food in a really cool atmosphere. Have a craving for fresh fish not listed on the menu? Ask the server and the Chef will whip up something to your liking. Enjoy a drink on their roof-top bar in the Palm at Playa Hotel. (restrictions may apply).
The Bar: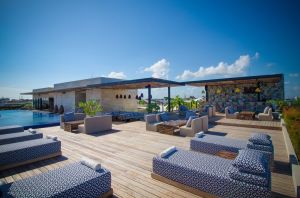 Located in Hotel Cacao on the rooftop, is the Bar – a trendy spot to enjoy a cocktail or two sitting in cozy couches overlooking the infinity pool. Elegant, beautifully designed and a treat for the eye. Staff are welcoming and the atmosphere is laid back and chic. 5th avenue and Calle 30th.

Another one of my all-time favorites, this elegant restaurant with excellent fun service is always on my go-to list whether for a scrumptious beautifully-prepared meal or just a very tasty margarita. We are always welcomed back like old friends – kind of like Cheers Bar (where everybody knows your name..) We have a favorite spot at a table with high bar stools with excellent views of 5th avenue people-watching. The courtyard in the back is built over a cenote, with waterfalls in a jungle setting. Don't miss having a meal at night in this very romantic spot! 5th avenue & Calle 14 &16.
FOOD COURTS
I have to say we are reallllly loving the new concept of food courts that have popped up in Playa. They are a fresh breath of air – reasonably priced, using fresh & local ingredients, and an upscale take on the traditional food courts you'd get back home. It's a place to go where everyone can find something to eat and drink while enjoying an open-concept area that is inviting and fun.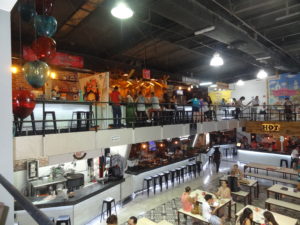 Nuestra Senora De Carmen Mercado is 10th avenue & Calle 8. Food stalls include local Mexican, tortas, burgers, Italian, and sushi choices. The mall has a little flower shop as well, and a bar. One stop eating and drinking!
Mercado Paseo Del Carmen is behind the Paseo Del Carmen Shopping Plaza, on Calle 1 and Juarez. (Near the entrance to Playacar, and close by the ferry to Cozumel). Offering a little bit of everything: a tea stall with homemade cupcakes and sweets, ceviche, sandwiches, breakfast items, pasta dishes and a newly opened Asian wok stall. Enjoy a craft beer on the main level with the friendly staff of Gonzalez – The Place to BEER! (Photo courtesy of EverythingPlaya)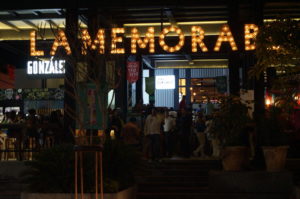 La Memorable Market (in the Grand Hyatt) is another new food court idea with a really classy feel to it located on 1st avenue between Calle 26 and 28th.
From tacos, to gourmet hot dogs to an artisanal craft beer shop – this large beautifully designed open space has it all including a nice variety of food and drink choices. Also within this cool food market is: an artisanal craft beer bar, Mexican wine bar, fresh seafood/taco restaurant, gourmet food truck, cigar shop, and a Mezcal shop (the cousin of Tequila) which you don't see as much of in the Riviera Maya.
Chankanaab National Water Park: Take the ferry to Cozumel Island to a piece of heaven at the delightful Chankanaab National Waterpark. Enjoy gorgeous beaches, lagoons, and snorkeling, lying in hammocks or swimming in the pool. Swim with dolphins and see manatees up close. Approx. 9 minutes from ferry. Great adventure day for families.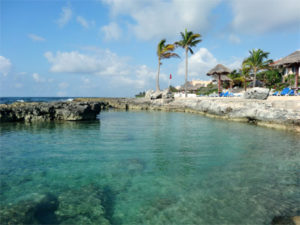 This may be one of my favorite places in the world and I admit to being a confirmed "Isla-Holic"! This small island, is the poster child for serenity, tranquility yet infused with vibrant colors that are a sight to behold. White sand beaches, green swaying palm trees, aqua blue waters, and colorful houses and murals. Tour the island by golf cart, stop at ancient ruins, beach bars, ocean front restaurants, and enjoy  its laid back charm, beautiful beaches and warm friendly people. What's not to love about an island with a drive-through beer store? (Don't miss touring Punta Sur for its seaside cliff beauty, forests and mangroves.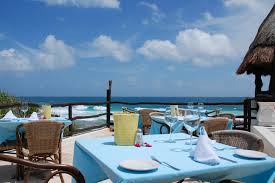 Cenotes: Cenotes are a natural sinkhole resulting from the collapse of limestone, which exposes the ground water beneath. They are unique to this region which makes them an attractive draw to swim in and discover. You can get to them easily from Playa del Carmen by rental car, or you can enjoy a private tour with Solstours who we use regularly for day trips. You will be picked up directly from where you are staying, and your guide Jaime will explain the area, the Mayan culture, and guide you through the cenotes! A wonderful memorable day! Contact Jaime at solstours@gmail.com
SEAWEED, SARGASSUM & SURF-RAKES
2015 was the year of sargassum (a type of brown algae/seaweed) that hit most of the countries of the Caribbean, and the Riviera Maya was no exception. This type of seaweed is a rare phenomenon and many long-time locals have never seen the likes of it before. With a big government push, cleanup efforts have been put in place to remove the sargassum with heavy duty surfrakes brought in to safely remove the seaweed without disturbing the marine life, or eroding the beaches. It's been an ongoing process as any drastic changes in wind and rain can result in flare-ups. 
However heading into the winter season with less rain, the sargassum has begun to dissipate (adios sargassum). Good luck if you think you'll avoid Playa and head to other parts of the Caribbean because it has been found throughout the tropical Atlantic. There is SO much to do in the Riviera Maya, and many beaches to visit, so if there's a return of the sargassum, take a tour of other places and beaches. There's no end of what you can do in this magnificent area!
UPCOMING EVENTS – YEAR IN ADVANCE!
Thinking of hitting Playa del Carmen for some fun along with the sun and surf? Let us book you the most fabulous ocean front condo or villa you've ever stayed in! You'll have a wonderful place to lay your head every night after enjoying some 'round the town' activities!
BPM: January 8 – 17, 2016: This year marks the 9th year the BPM electronic music festival hits the sunny shoes of Playa. Expecting up to 60,000 people over the course of 10 days with over 375 acts.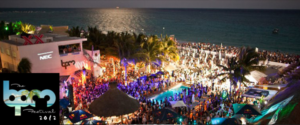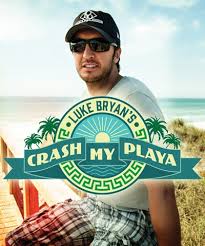 January 22-26, 2016. Talk about a good old concert vacation with the world's hottest country stars. Luke Bryan hosts this event along with performances from Dierks Bentley, Cole Swindell, Sam Hunt, Chris Stapleton and more. Talk about some boot (and beach) scootin' boogie!
CIRQUE DU SOLEIL: Cirque Du Soleil has been astounding audiences around the world for years and now they've brought their magic to the Riviera Maya. JOYÁ is the story of an aging naturalist and his granddaughter who uncover the secrets of life on a transformative journey (They do a beautiful job of incorporating the Yucatan and Mayan history throughout) It is a story of passing along wisdom, culture and history. (Picture magicians, clowns, acrobats and excitement!) Enjoy a dinner show or a show with Champagne (now you're talking!)
So Happy New Year to you all, especially are longtime clients and to new clients! Rest assured we at Playa Beach Getaways / Your Best Getaway promise to make all your vacation dreams come true! We will treat you like family…ahem, well even better than family! Salud!
 Questions? Email us today at: info@yourbestgetaway.com

"PLAYA" Gal (a very satisfied client now working to promote Playa Beach Getaways!)
Contact Sally Foran: salgal@playabeachcondo.com  ~~ PS Catch us on Facebook & Pinterest
Sally Foran is a happily married mom of 3, residing in Canada and is a frequent traveler to the Riviera Maya MX. She is an aficionado on 'everything Playa del Carmen' and writes with joy and passion about the area.  She is also a witty blog contributor to Work & Family Foundation Canada, and NAVUT (offering professionals new to Ottawa the inside scoop!) Sally has also been awarded Blogger of the Week on TravelBlog.Org which enjoys over 250,000 bloggers world-wide.