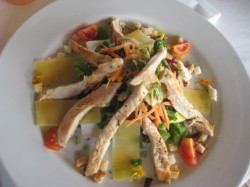 A private vacation rental for our family wins hands-down over an all-inclusive (AI's) on vacation to sunny Playa. Jostling for loungers at the crack of dawn & sharing our vacation with 500 people (some inebriated) was equal to a root canal for this tired mom & not worth the included "perks". (This is strictly our experience and opinion.) I came to the realization years ago I don't like big crowds and renting a condo allows me all the space I want.
Here are a few tips on how you can "eat like a king on a pauper's budget", spending little money & time in the kitchen yet living the life of luxury!
First, picking a knowledgeable vacation agent like Tonya Sarina of Playa Beach Condos & Villas (PBC) is key! PBC offers options for the budget traveler or the extravagant vacationer from simple condos to lavish beachside villas with private pools.
Having a kitchen at our disposal with children is key for quick meals. Mega grocery store in Playa offers it all; fresh seafood, bakery, deli, beer & wine (liquor) & also a large take-out section. We've picked up freshly prepared tortillas, guacamole, BBQ chicken for under $20US which fed 7! Across from Mega you'll find the famous HC Monterrey & El Fogon where you can pick up tender arrachera steak, baked potatoes, fresh tortillas & all the fixins' for a small tidy sum! Trust me, you CAN dine cheaply in Playa without sacrificing taste!
Tonya can also hire a personal chef for you at a surprisingly low cost who will buy all your food & prepare it! We had a fabulous chef last year who prepared international dishes & surprised us with mouth-watering appetizers & frothy margaritas served on our terrace daily!
Playa abounds with restaurants from fast-food to high-end dining with many cafes offering 2for1 drinks or free drinks with your dinner. We steer clear of the "touristy" areas & eat at the local gems giving us a real cultural experience without emptying our wallet.
FYI
-eat at the push carts by the ferry & Juarez Ave. Fresh fruit cups, shrimp tacos & cochinita pibil; tasty pork in banana leaves! The longer the line-up the better the food!!
-many beachfront cafes offer reasonable breakfast & lunch options; $3.50US will get you a bowl of yogurt topped with fresh fruit, granola & coffee (ocean view included!)
This is just a "taste" of what Playa has to offer! PBC will provide you with a list of restaurants & grocery stores to make for a carefree holiday so call them today…You know you want to! Adios!
"PLAYA" Gal (a very satisfied client now working to promote Playa Beach Condos & Villas!) salgal@playabeachcondo.com (PS-Click on the feed & follow my blogs!)