I LOVE everything food. I love buying it, cooking it and especially eating it! I enjoy immersing myself in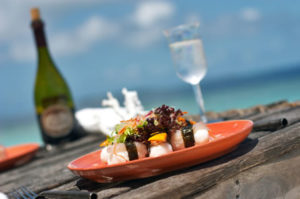 cooking shows & magazines and it's always a thrill to dine at a new restaurant and take notes (and pictures!). I love to entertain and there's nothing better than to have friends over for an evening of dining (with plenty of wine tippling!). Our friends have learned when I say an "evening of dining", I mean a whole EVENING of dining! Simply put, to me food is love…
Only a food lover would head out on a dark, cold rainy November night to a food show packed to the rafters with hungry folks all jostling for yummy bites while juggling wine glasses & sample plates. The food was superb but by the time I got out of there, I looked like I'd gone a few rounds in the boxing ring. Fighting the long line-ups while being elbowed left & right was for the birds.
If you take my love of Playa del Carmen and combine it with food you'd get Taste of Playa Food Festival
held November 21 and I'm sure it'll prove to be a much better experience than my last food event!  This much anticipated food festival is a total treat for your taste buds! 
Take a bunch of creative chefs, mix in local ingredients, stir in tasty drinks, add in hungry fans and you have a scrumptious "recipe" for a successful event. This annual event shines a big spotlight on the Riviera Maya as a one-of-a-kind culinary destination and one more reason to buy a ticket to sunny Playa. Where else could you get the wonderful opportunity to sample international dishes at bargain prices made by creative chefs against the backdrop of the sparkling Caribbean Sea?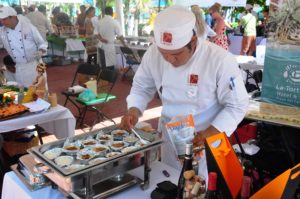 In addition to all the yummy food and drinks, guests will be able to shop at the Marketplace which showcases specialty foods, unique products, cool ingredients and unique souvenirs to bring home for that hard to buy person. Eating, drinking and shopping – can there be anything better than that?! Well maybe one more thing and that is Taste of Playa also donates a portion of the proceeds to assist a not-for-profit food or water program in the area.  You can do good while having fun!
Want to know more? Check out this mouth-watering event!
Want to have a soft pillow to lay your head down after all that wining and dining? Then let your fingers do the walking and/or talking and give Tonya at PBCV a call! The world is your oyster and they make sure it holds a pearl just for you…
And come November I will be anticipating the unique flavors only the Riviera Maya can dish up.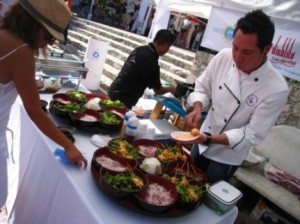 "PLAYA Gal" (a very satisfied client working to promote Playa Beach Getaways!)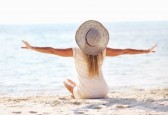 salgal@playabeachcondo.com ~~~
 PS Catch us on Facebook & Pinterest
Photos: Taste of Playa, PRLOG