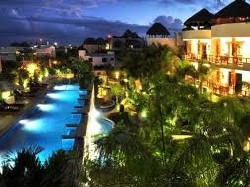 Staying in a penthouse at Porto Playa Condos was like winning the vacation jackpot. Tonya showcases this condo in great detail on her website so I'll just add my two cents on what really stood out during our stay.
The hotel is a peaceful tropical oasis of lush gardens & pools which is absolutely breathtaking. Sitting on our terrace listening to the soothing cascading waterfalls was a slice of heaven (I wanted to share it with each & every one of my friends!). A penthouse sounds decadent & luxurious, but it's also a very economical option for a large group to share comfortably.  All 3 bedrooms had en-suite bathrooms which was a real godsend. And after dragging tired kids through an airport, the spacious master bedroom with an en-suite marble bathroom & Jacuzzi brought tears of joy to my eyes. I knew where I was sleeping…
The piece-de-resistance was the private rooftop equipped with an outdoor kitchen, Jacuzzi, moon shower and a cozy couch under a large palapa! I didn't see the kids for a week ;). We spent hours in the large heated pool which most days we seemed to have all to ourselves (an added perk of condo hotels). At the beach we enjoyed complimentary beach chairs & towels from Indigo Beach Club where drinks & food are brought to your lounger! (Food & drinks are extra).  After a busy day at the beach it was a thrill to come home to our luxurious sanctuary. The comfy beds made for tranquil sleeping which made this mom one happy camper. And there's truth to that old saying, "when mom's happy, everybody's happy"! This was one of THE most relaxing holidays I've ever had due to the serene atmosphere of Porto Playa. We met a few of the condo owners who were so welcoming & friendly, yet very respectful of our privacy (one night we were even invited to a neighbor's for a freshly-caught lobster dinner!)
We were smack dab in the heart of Playa, just one block either way to the ocean or 5th avenue (no need for taxis). In seconds we were out on 5th avenue shopping or grabbing some take-out for dinner. Or we were doing what I like to do best…people-watching while sipping the tastiest margaritas that Playa has to offer!
It's clear Porto Playa carefully hand-picks their staff as the front desk & security treated us like VIP's and housekeeping was fastidious (they don't do "drive-by cleanings"). My hat's off to the meticulous staff who lovingly maintains the grounds. Add all these amenities together & you've got one spectacular memory to bring home like a prized souvenir.
The more we get to know Playa the more we realize we are drawn back there because of the hospitality of the people who work so hard to give us memorable vacations. Tonya recognized those traits about Playa long ago and does her utmost to provide vacationers with extra touches that make your holiday ripe with experiences like no other.
"Playa Gal" (a very satisfied client now working to promote Playa Beach Condos & Villas!) salgal@playabeachcondo.com (PS-Click on the feed & follow my ongoing blogs!)