"All happiness depends on a leisurely breakfast". ~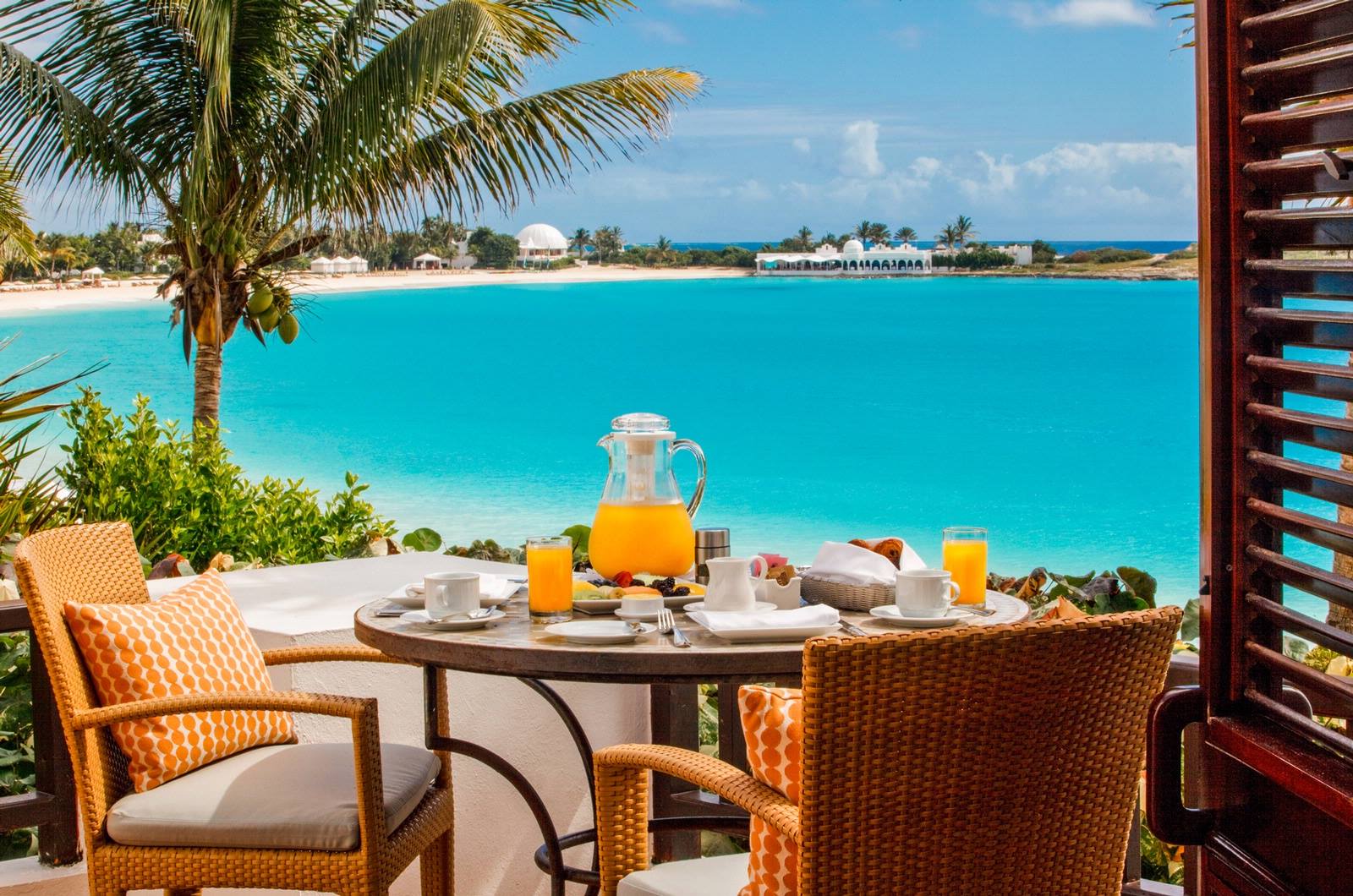 I LOVE breakfast. (Especially when I don't have to make it.) I also love sitting by the ocean first thing in the morning watching the beach come alive while I dig my toes into the soft sand and sip a mimosa. (Now we're talking!) Then having it all topped off by having a delicious hot breakfast served to me by a friendly waiter. This is as darn close to heaven as I'm going to get on planet earth.
We don't venture out for breakfast every day because the condos we stay in offer fully-equipped kitchens and balconies with amazing ocean views, so who needs to leave that?! And Walmart is close by so it makes it easy to stock our kitchen with inexpensive grocery items. 
Life is a rat race and sometimes I'd just like a little more cheese 🙂 In this case going on vacation is getting out of the rat race, and treating ourselves to breakfast on the beach or in a soothing garden is the little more cheese that I wish for…
So when we do go out, it's a real treat to sit and break bread together. (And ahem, this Mom gets to enjoy her mimosa!) And don't you know when Mom is happy, then everyone is happy?! 
There are some stunning places to eat in Playa, where they whip up tasty breakfast morsels, and usually at reasonable prices. While breakfast can be a tricky thing when trying to please everyone's palettes (light eaters, or hearty eaters) these places all offer enough options to keep everyone's frown upside down! 
So read along with me and I'll give you the lowdown about our top choices for breakfast in paradise!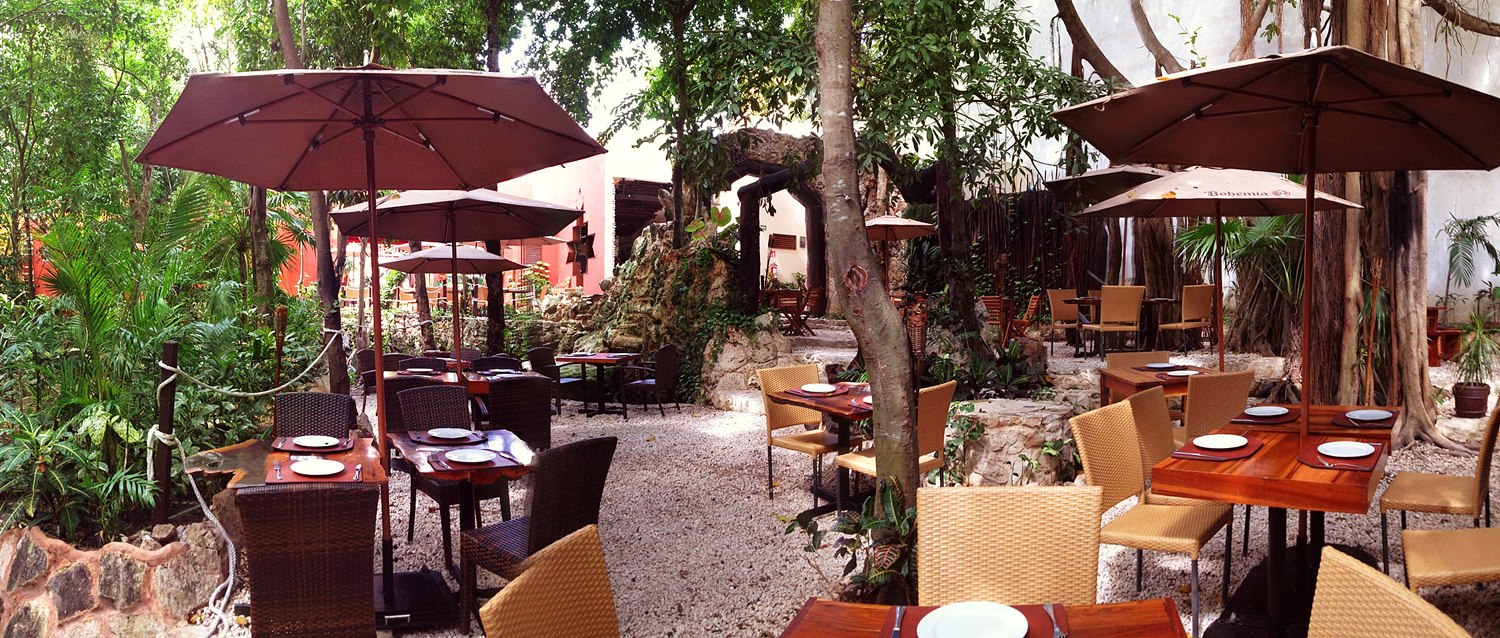 Aldea
Aldea Corazon: Who wouldn't want to dine in a beautiful courtyard in a tropical jungle over a natural cenote? I sure do. You can enjoy people-watching while sipping one of the best margaritas in Playa on their sidewalk patio, or relax in their tropical jungle setting in the back. On the menu: licuados (Latin American handmade blended beverages similar to smoothies), an assortment of egg dishes and breakfast sandwiches. Their specialties such as the classic Spanish tortilla, huitlacoche (a mushroom-like corn fungus) crepes, and their huevos rancheros are pretty tasty. Their breakfasts look like something out of a magazine, and the food tastes like something from a cooking show. It is a little more on the higher end of the price scale but worth ever peso. 5th Avenue near 14th Street.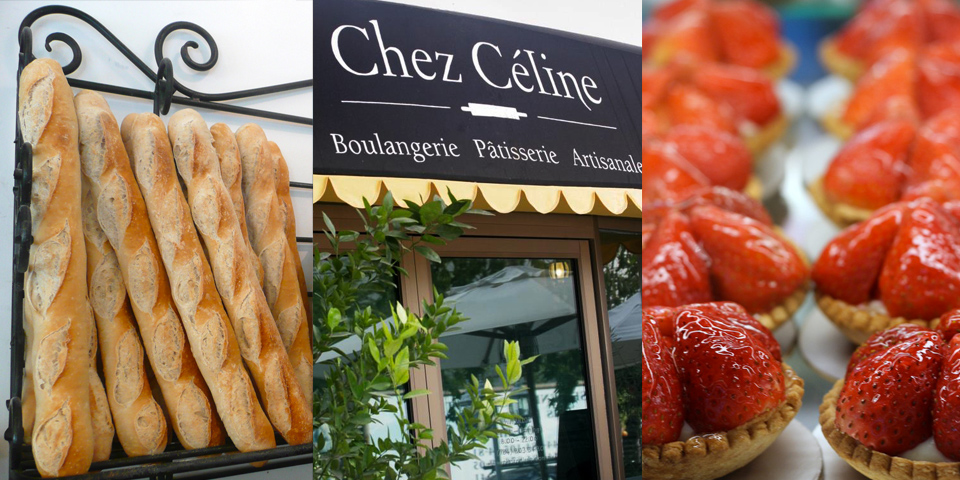 Chez Celine:  Oui oui there's an authentic French bakery in Mexico! (Playa really does have it all in the way of international cuisine.) And let me tell you once you have one bite of their buttery croissants you'll be speaking French in no time (after you are done drooling!) They have breakfast combos, pastries and some of the best cappuccino and coffee in Playa. My favorite: the decadent Croque monsieur. Enjoy dining inside where the a/c is, or on their lovely shaded patio outside. Be prepared for a lineup in the morning (which speaks volumes) but well worth the wait! 5th Ave. & 38th street.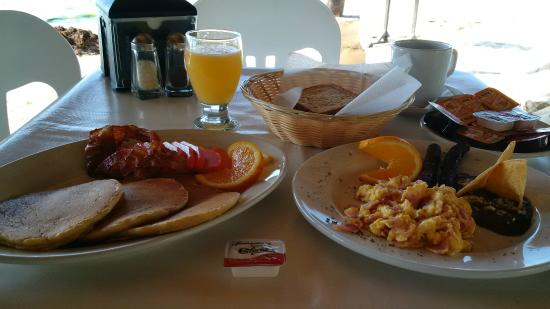 Playa Maya: This little beachfront gem under a huge palapa offers a wonderful and inexpensive breakfast (desayuno in Spanish) with lovely ocean views. Our server Juan (who we always ask for) is so welcoming and attentive. Their breakfasts are hearty with homemade everything and they are always so agreeable for any substitutions etc. We've enjoyed the usual suspects of pancakes, fresh fruit & granola, bacon and eggs, great coffee and mimosas. They also offer a good selection of Mexican items too. This is probably one of the cheapest eats on the beach, yet so delish! On the beach between 6th & 8th street.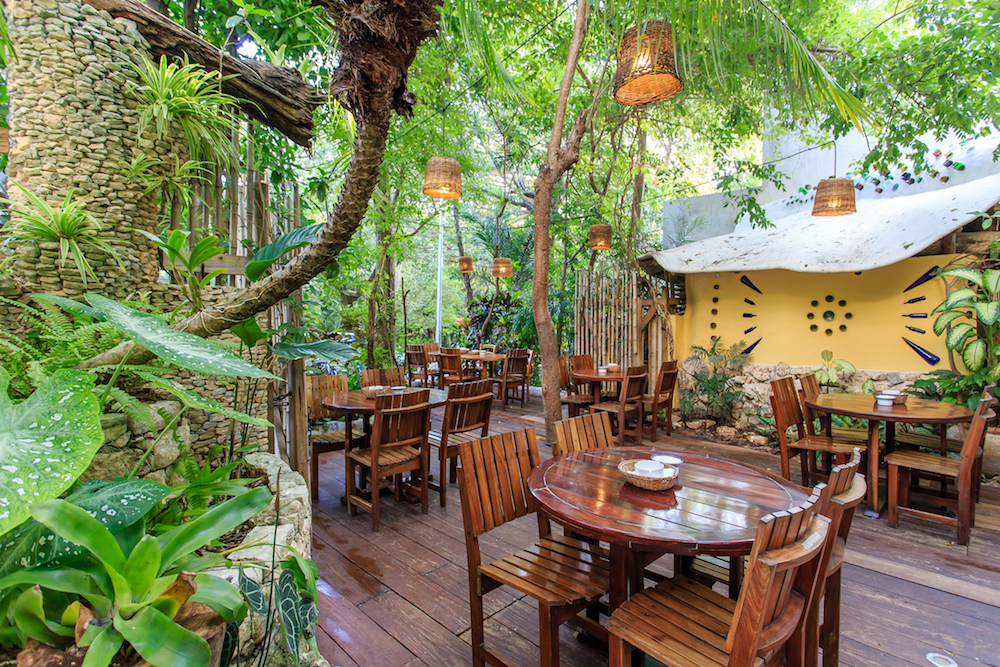 La Cueva del Chango: One of Playa's most beloved and adorable restaurants, the "Monkey Cave" (as known in English) is touted for its beautiful tropical setting where you can dine in a garden surrounded by lush foliage.  They really focus on healthy, natural and organic food concepts here. Their juices are all made from fresh fruit, and their coffee is freshly ground. Dig into Mexican-style eggs, empanadas, chilaquiles, fresh fruit plates, homemade granola, crepes, French toast and the list goes on. They offer vegan and vegetarian options as well. This is an immersive dining experience where you'll enjoy the little waterways that trickle through this lush magical setting. 38th Street off 5th Ave on the way to the ocean.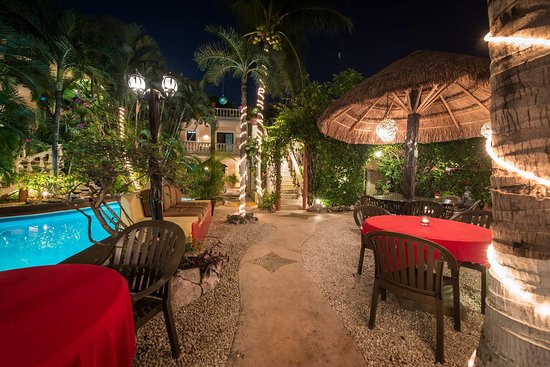 Mayan Bistro: I really love this zen-like and quaint spot away from the hustle and bustle of 5th avenue. Set back in a garden towered over by flowing palm trees and by a pool, it offers the perfect start to a day. Their menu isn't extensive but what they offer is cooked to order. Enjoy tasty omelettes, poached eggs, burritos, Mexican egg choices with black beans, French toast, pancakes, breads, and mouth-watering pastries. Don't miss out on trying their Mayan coffee and if the mood strikes, their robust Bloody Caesar (now that's a great way to start your day off!) You'll enjoy this hidden gem tucked away in a vivid jungle setting topped off with the friendliest of service.  10th Avenue & 22 Street.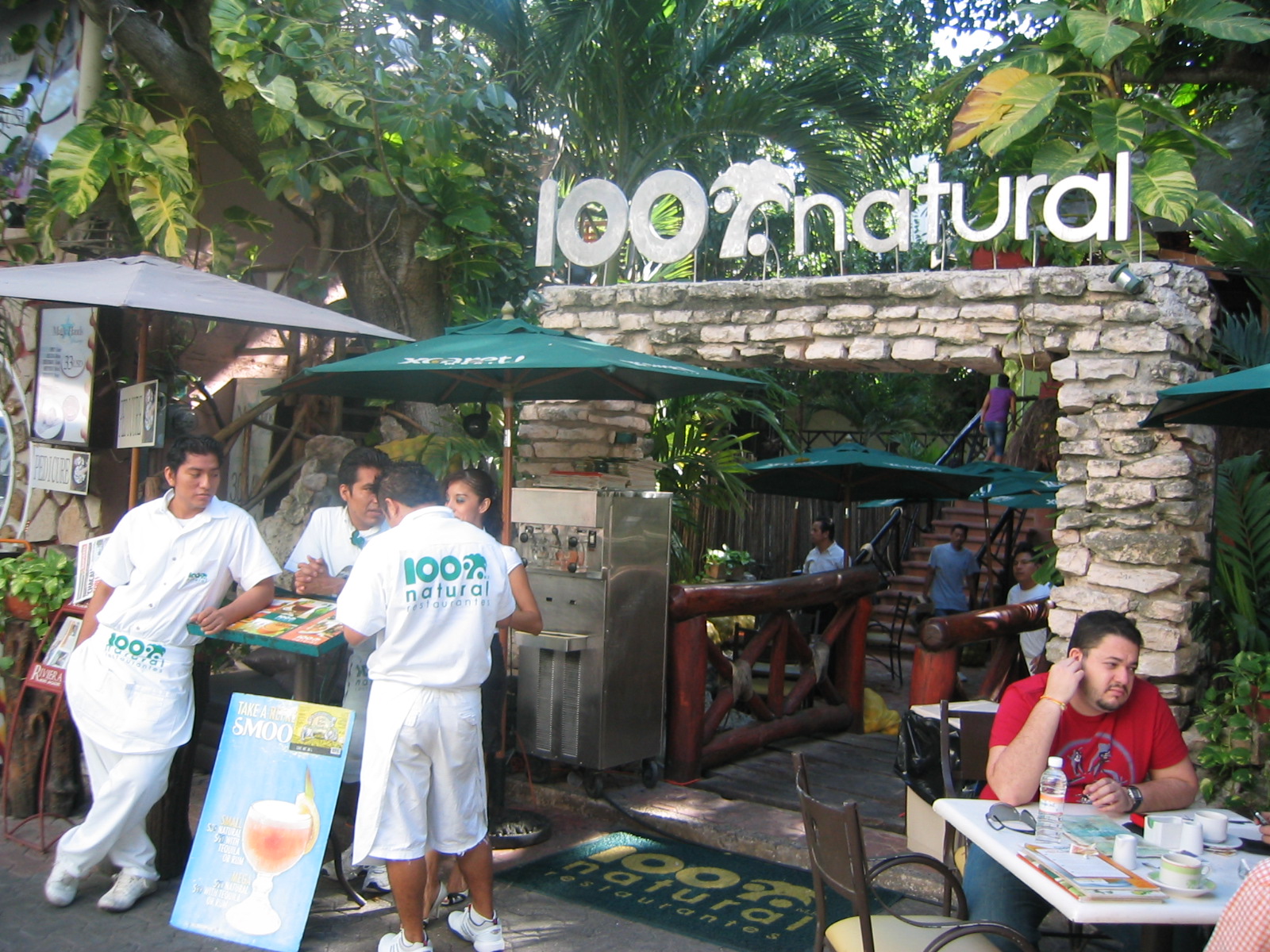 100% Natural: Calling all health-conscious breakfast goers, this places offers natural, organic, gluten-free, and vegetarian options. They have a seemingly infinite variety of tropical juice blends and smoothies spiked with everything from aloe vera, nopal (cactus), chaya (a spinach-like leafy vegetable), and any other health boosters they can dream up. And all served in glasses the size of your head! Their menu is extensive but they offer fresh fruit plates, yogurt & granola, omelettes, pancakes, Mexican egg choices etc. All served in a tropical garden with a trickling waterfall adorned with fresh fruit. Soothing! 5th Avenue between 10th and 12th.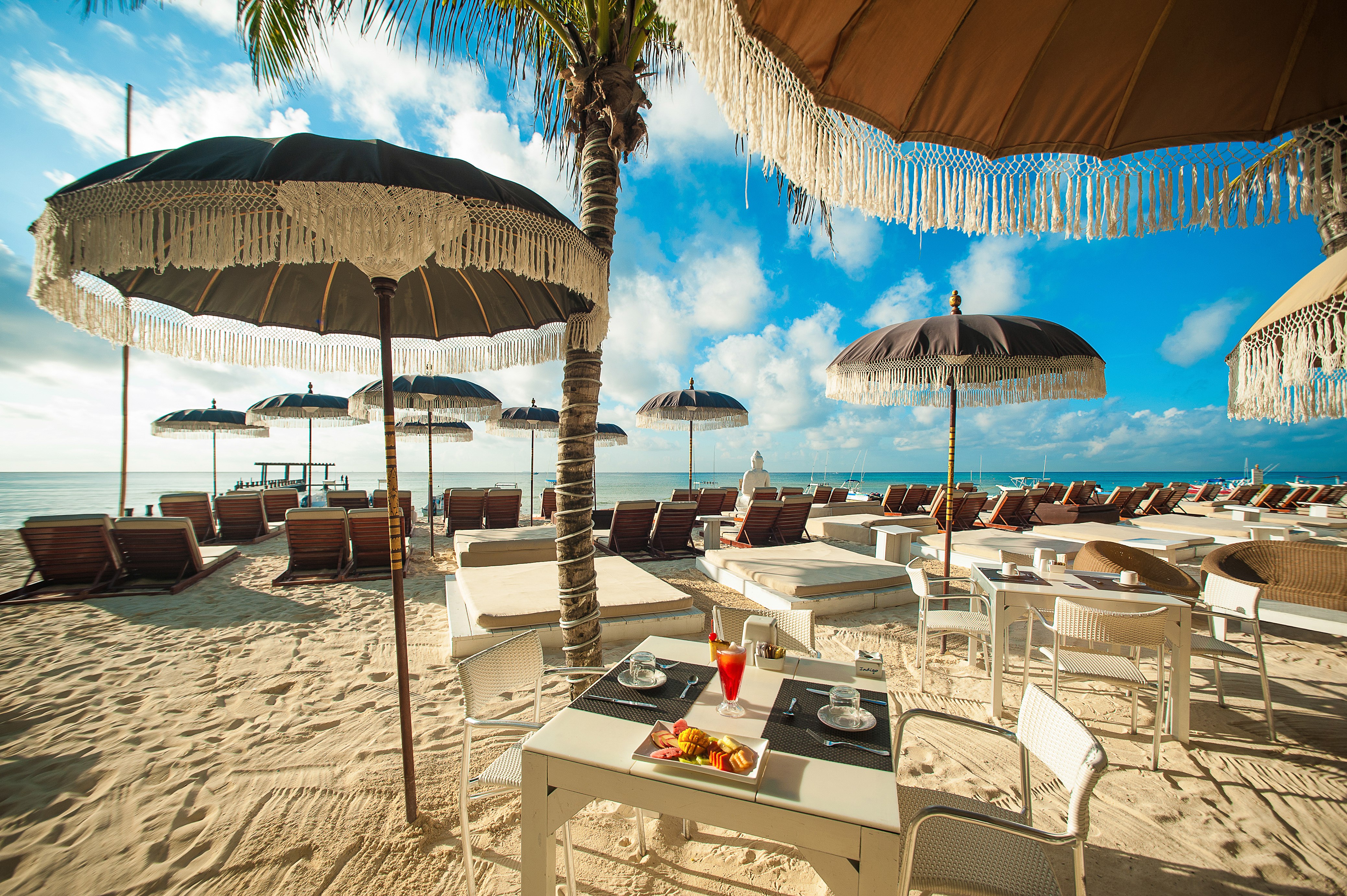 Indigo Beach Club: Breakfast on the beach? Si senor! Enjoy their daily buffet while you dig your toes into the sand and enjoy the ocean views. On the menu is both Mexican & American type breakfast items such as: huevos rancheros, chilaquiles, omelettes, pastries, breads, cheese, cereals with toppings of dried fruit, and nuts etc. For 150 pesos you can enjoy their 'all you can eat' continental buffet, plus one warm dish, coffee and juice. It's more of an upscale spot, but worth it due to its atmosphere, ocean views and fun service. On the beach and 14th street.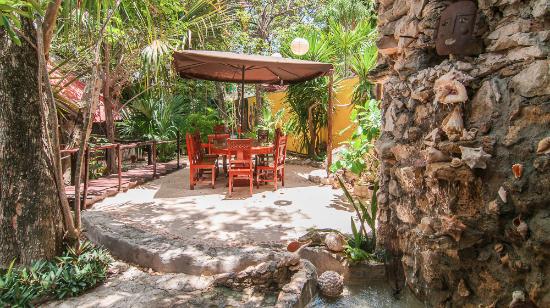 El Jardin: If you eat with your eyes, then your eyes will be filled to the brim with their breakfast choices and natural garden setting with a water fountain running through the premises.  So what's on the menu you ask? How about enchiladas, chilaquiles with all the sauces, organic coffee from Chiapas, freshly squeezed orange juice, fresh fruit with organic granola, and a variety of German breads, organic spreads, and organic eggs. Try their chorizo omelet and the motuleños, along with their huevos rancheros. This hidden gem is off the beaten path but they offer excellent food at great prices in a relaxed setting. Even better, the owners are very warm and engaging plus they put on quite the cabaret show at night! Winning!  20th Street between 10th Avenue and 15th Avenue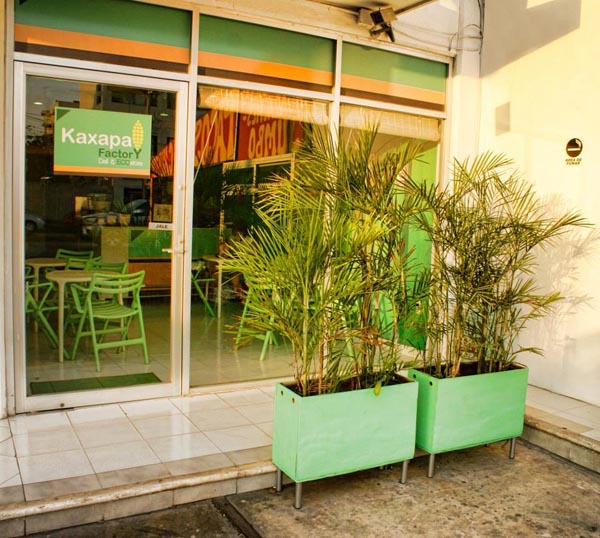 Kaxapa Factory: The wonderfully welcoming Ramon family operate this lovely little Venezuelan spot serving up homemade food made with love. Mom's in the kitchen working her magic, and dad's serving the guests. Try their homemade cachapas (much like a thick corn pancake) which is folded over and stuffed with cheese etc. Their other signature dish is arepas (a cornmeal cake that is baked and used like bread & cut open & filled with tasty ingredients.). Beware the portions are ginormous! Very friendly service and the prices are very reasonable. Calle 10 entre avenida 15 y avenida 20.
Playa is awash with restaurants, and below are a few more dining spots worth an honorable mention. And if you come across a spot you really like, please share it with us. As we all know, Playa is forever changing and new gems come along all the time.
Lido Beach Club: Beach & 10th Str.
Bio-Natural: Av. 10 & Constituyentes.
El Bistro Av. 10 between 12th and 14th Str.
El Nativo. Av. 30 and Av. Constituyentes.
Aroma Cilantro. 5th Ave. & 14th Str.
La Vagabunda. 5th Ave. between 24th and 26th Str.
Ceiba 30. (DACS fruit market) 30th & Constituyentes.
Are you tempted by these wonderful breakfast spots where you can stick your toes in the sand and enjoy amazing ocean or garden views? Well then, don't delay and email us today for the best in luxury oceanfront condo & villa rentals. info@yourbestgetaway.com
Hope to see all of you on the beaches later this month! Salud!
"PLAYA" Gal (a very satisfied client now working to promote Playa Beach Getaways!)
Contact Sally Foran: salgal@playabeachcondo.com  ~~ PS Catch us on Facebook & Pinterest

Sally Foran is a happily married mom of 3, residing in Canada and is a frequent traveler to the Riviera Maya MX. She is an aficionado on 'everything Playa del Carmen' and writes with joy and passion about the area. She is also a witty blog contributor to Work & Family Foundation Canada, and NAVUT (offering professionals new to Ottawa the inside scoop!) Sally has also been awarded Blogger of the Week on TravelBlog.Org which enjoys over 250,000 bloggers world-wide.
Playa Beach Getaways is a Denver CO. based company owned by Tonya Sarina. Playa Beach Getaways / Your Best Getaway have earned a rating of Excellent by Trip Advisor, FlipKey and VRBO and continues to earn raves from satisfied guests who return time after time.