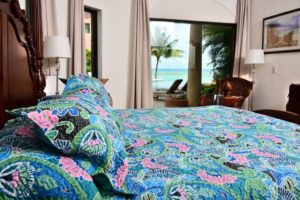 June is almost upon us and many people are scrambling to put their summer vacation plans in place.
Want to avoid a summer road trip with a carload of cranky kids asking "are we there yet" ad nauseam? Or pass on that family camping trip possibly filled with endless rain and ginormous horseflies?
If so, perhaps it's time to put your summer vacation plans in our very capable hands! And if we may, here's a better vacation option geared just for you!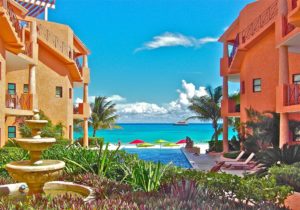 TROPICAL PARADISE
How about a relaxing stay at a luxurious oceanfront condo nestled on the beach, mere steps to the infinity pool and the beach? How about your own private terrace next to the pool where you can sip a margarita with a warm breeze on your face while your kids frolic in the pool!  I had you at tropical vacation didn't I?  😀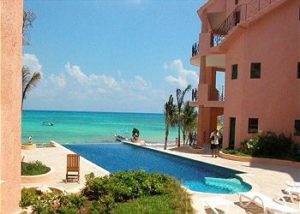 GROOVY DIGS!
Condo E1 at Luna Encantada is conveniently located right in the heart of Playa del Carmen, just a few steps away from the internationally recognized 5th Avenue which is alive with shopping, dining, and nightlife parallel to the aqua blue Caribbean.  Life doesn't get any better than this!
E1 is the ideal condo to spend your summer vacation in. Newly furnished and decorated, all you have to do is slide open your doors to a wonderful holiday and unwind in your own tranquil, tropical home-away-from-home.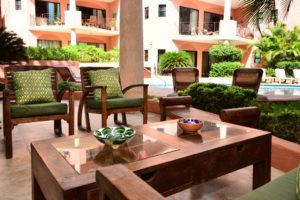 FABULOUS FEATURES
This condo is located on the ground level which is ideal for families, and for anyone with mobility issues. It is a spacious open-concept bright condo which enjoys 3 bedrooms for the ultimate in comfort. The master king bedroom enjoys ocean views, and has a large en-suite marble bath with "his & her" sinks and walk-in shower.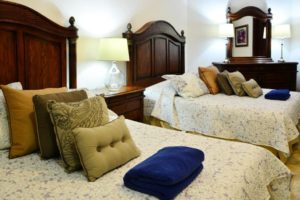 The guest bedroom offers 2 queen beds, and a large walk in closet and doors to the 2nd full bath. The third bedroom also enjoys a queen bed and shares the second bathroom. There is a queen sleeper sofa allowing 10 people to share this home in comfort. You will sleep like a bambino in this condo waking as fresh as a daisy!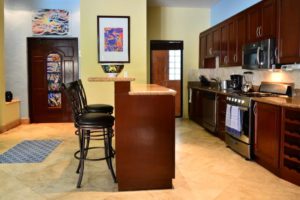 The fully-equipped kitchen and open concept dining area offers all the bells and whistles for preparing breakfast to a gourmet dinner. And with hundreds of restaurants and cafes close by, you can put away the apron if you don't want to cook on holidays.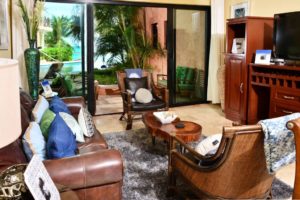 The living room enjoys a 40" flat screen TV with DVD/Cd player and a Wii game console! When you just can't take the beauty of the Caribbean any longer, you can enjoy a game of Wii or sit back & watch a movie. We offer free high speed internet & free calls to the US & Canada.
And this condo is topped off with your own private terrace with patio seating which is a wonderful spot to while the day away.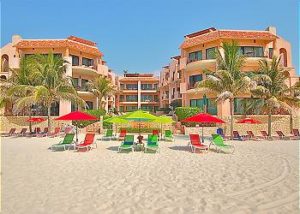 PLENTY OF PERKS!
With a stay at our condo, you get to enjoy private loungers, umbrellas and beach service (no lounge chair wars for you!) Want a margarita or fajitas from the bar next door – just ask our beach server and voila, a tasty margarita & a tray of delicious food delivered right to your lounger[i]!
Enjoy maid service, individual controlled a/c, 24 hour security, complimentary internet, free phone calls to North America and fresh water. And for a small price, get a relaxing beach massage mere feet from your lounger! Aye carumba!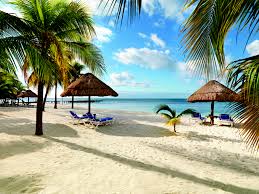 WHAT'S THE 'BUZZ' ON PLAYA?
Playa del Carmen offers it all. It's the perfect starting point not only for hip beaches but its exciting fun nightlife both on and off the beach.  
The deep waters between Playa del Carmen and Cozumel are ideal for scuba divingand deep sea fishing. The jungle invites you to explore its magic while enjoying an ATV or zipline tour, or visiting amazing archaeological sites.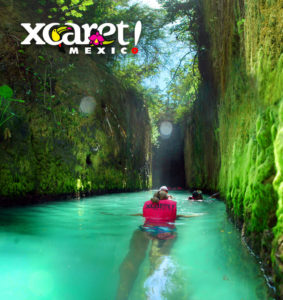 Extreme sport lovers will enjoy every minute in Playa. You can choose from a great deal of water activities, such as swimming at the beach or snorkeling, to more active sports like windsurfing, skydiving, sailing, or scuba diving by the neighboring reefs or in caves.
Less extreme but equally exciting options include a boat or catamaran tour, a visit to the ancient Mayan ruins, or trips to eco-water parks such as Xcaret or Xel-Ha.  
AND NOW FOR THE BEST PART!
We are offering 20% off this condo for June to October 2015! Yes it is your lucky day! But you'd  better act quick; this is a deal that will be snapped up quickly!  
When you rent a condo with us, you get more bang for your buck opposed to a stay at a hotel. If you're a tourist who wants to feel like a local, staying in one of our condos help you do just that. And if you're looking to make fantasy into reality, renting could be your chance to discover what it really feels like to live in an oceanfront condo in the Riviera Maya!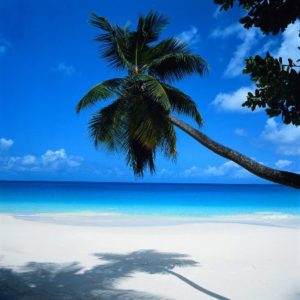 Luxuriate in hearing the sounds of the ocean surf from your condo, experience jaw-dropping sunrises and unforgettable sunsets which will confirm the fact you really are in PARADISE.  
What? Oh you've got your flip flops packed already!  
For more information and pics of this condo, click here!  
Questions? Email us today at: info@yourbestgetaway.com

"PLAYA" Gal (a very satisfied client now working to promote Playa Beach Getaways!)
Contact Sally Foran: salgal@playabeachcondo.com  ~~ PS Catch us on Facebook & Pinterest
Sally Foran is a happily married mom of 3, residing in Canada and is a frequent traveler to the Riviera Maya MX. She is an aficionado on 'everything Playa del Carmen' and writes with joy and passion about the area.  She is also a witty blog contributor to Work & Family Foundation Canada, and NAVUT (offering professionals new to Ottawa the inside scoop!) Sally has also been awarded Blogger of the Week on TravelBlog.Org which enjoys over 250,000 bloggers world-wide.
[i] Food & drink extra