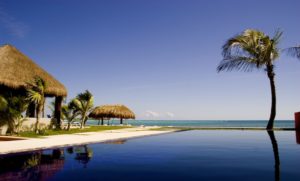 In your larger-than-life luxury travel dreams, have you ever thought of spending a week or two in a private Caribbean oceanfront villa? Does the very thought of having your own plunge pool off your master bedroom's balcony make you weak in the knees? (Forget Brad Pitt, give this woman an oceanfront plunge pool!)
Well no need to just 'dream' about it anymore as your private oceanfront villa awaits and it's much more affordable than you thought! So haul out your two piece bikini and your hubby's Speedo (well maybe not) because you'll be wanting to spend your next vacay in one of our world-class villas!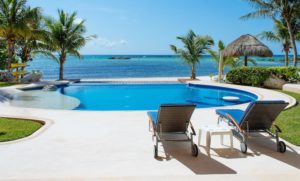 Most of us have a perception that private villas are for the rich and famous like J. Lo or Taylor Swift. But the reality is that when shared with a group of family or friends it can easily fall within your travel budget. And whoever coined the phrase "living high off the hog" must have had these opulent villas in mind because they are right out of a magazine!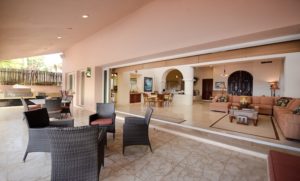 CREATURE COMFORTS OF PRIVATE VILLAS!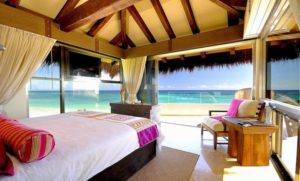 Private villas are custom built and beautifully designed to offer privacy, space and luxury from A to Z. Villa amenities include (just to name a few so I can brag a little 🙂
gourmet kitchens & breakfast bar

deluxe living rooms with home theater & pool/ocean views

flat screen HD TVs, indoor/outdoor speaker systems

satellite TV, iPod docking station, WiFi

infinity pools, hot tubs, plunge pools

master bedrooms with en-suite baths & top-quality linens

private balconies/terraces off bedrooms

open-air living space with outdoor wet bar

beautifully landscaped sites overlooking the ocean

private beaches with loungers 

rooftop terraces with chaise lounges, hammocks & BBQ grills

game rooms & indoor gyms

outdoor showers 

kayaks, bikes, snorkel equipment

individual controlled a/c & ceiling fans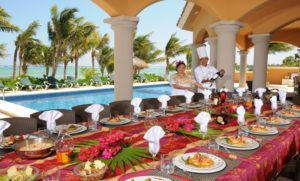 Considering the average hotel room is around 300 square feet, having a villa that ranges from 2500 sq to 10,000 sq. feet is ideal for family gatherings, weddings or company retreats. And best of all, strangers aren't invading or infringing on your privacy. (And if you're traveling with a family member who on occasion gets on your nerves, there are plenty of places to retreat to enjoy some solitude!)
Imagine you and your family or friends enjoying a 5,000 square foot home, with state-of-the-art EVERYTHING? Cowabunga! Just picture yourself jumping into your own pool, soaking in your own Jacuzzi with unobstructed views of the ocean. Or relaxing on your own ocean front lounger with nary a sound to be heard except the waves lapping at the shore! Absolute heaven & summed up best as a 'real vacation'.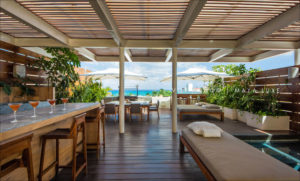 And an added perk of feeling like an A-list celebrity – private villas often come with your very own personal staff such as chefs, maids, concierge, massage therapists, and personal drivers catering to your every whim. (*Based on individual property listings.)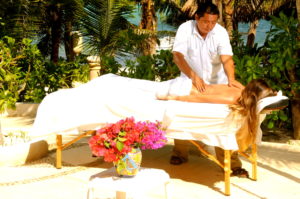 Arguably one of the greatest benefits of renting a private villa is the exclusivity and the privacy you will enjoy which is worth every peso. Even the most secluded hotels will still have guests or hotel workers encroaching on your space. And a main perk – no lounge chair wars or drunken guests swilling booze around the swim up bar. (Bonus!)
And no more worrying about how much noise your kids are making and whether the folks in the next room will call the Front Desk on you because you watched Toy Story for the tenth time through paper-thin walls.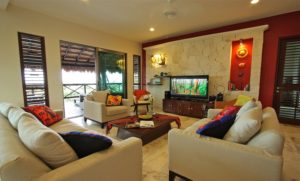 And if you have a rainy day (which is a NIGHTMARE in a cramped hotel room with kids), these villas have several TVs with DVDs & games on hand and some villas come with fully-equipped game rooms (hallelujah!)
Unlike hotels, if bad weather hits you don't have to venture out to entertain the kiddies while paying through the nose for that "entertainment". At a private villa, just like at home, you can pop in a DVD from the video library, make some popcorn and wait out the weather in perfect harmony with no tantrums! (And mom & dad can enjoy a tasty margarita!)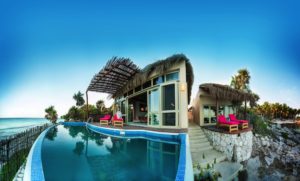 What? You're a group of 40 people? No worries, we have villas designed with up to 13 bedrooms and bathrooms to accommodate your guests in comfort and style!
Ultimately private villas allow you to feel at home but let's be honest, "home" was never this good! These homes are a tropical oasis where you will relax and be pampered. Waking every morning to the sounds of nature while sipping coffee by the pool with beautiful views of the ocean will make you pinch yourself every day to make sure it's not a dream…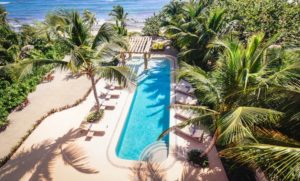 So put down those Cheetos and drop us a line and we will hook you up with a home that will surpass any fantasy you've ever had about an oceanfront home-away-from-home! And by the time you leave you will have felt like you lived the lifestyle of an A-list movie star (watch out for the paparazzi lying in wait to take your picture!)
Welcome to paradise my friend…welcome to paradise.
(For more information on a dream vacation in one of our luxury properties, contact Tonya today at info@yourbestgetaway.com)
Signing off,
"PLAYA" Gal (a very satisfied client now working to promote Playa Beach Getaways!)
Contact Sally Foran: salgal@playabeachcondo.com  ~~ PS Catch us on Facebook & Pinterest
Photos Courtesy of: MayaLuxe.Com

Sally Foran is a happily married mom of 3, residing in Canada and is a frequent traveler to the Riviera Maya MX. She is an aficionado on 'everything Playa del Carmen' and writes with joy and passion about the area.  She is also a witty blog contributor to Work & Family Foundation Canada, and NAVUT (offering professionals new to Ottawa the inside scoop!) Sally has also been awarded Blogger of the Week on TravelBlog.Org which enjoys over 250,000 bloggers world-wide.