Grocery Delivery
Our guest services manager who is located in Playa del Carmen will be happy to stock your refrigerator prior to your arrival. The charge is $30 plus the cost of groceries, can be paid in advance and can be a great time saver — especially if you are arriving later in the day.
You can use this PDF to send us your grocery list: Playa Grocery List
Personal Chefs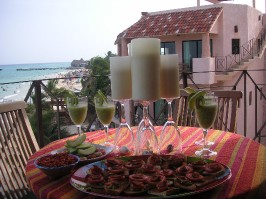 There are a number of personal chefs that work in Playa and the rates cover a wide range. Our preferred chef works frequently at Casa Callaway but is available for our other properties as well.
Here is a note from the house manager, Diana, at Casa Callaway who takes care of all the details if you wish to utilize the personal chef service:
We have a cook and she's really good! She can cook whatever you want, Mexican, Italian, French, seafood, any style….
For up to eight guests, the chef will work 5 hours for $70 USD which generally is usually 2 meals (breakfast and lunch or lunch and dinner). Over 8 guests cost a little extra! If you want just 1 meal, the cost is $40 USD. The cost of groceries is additional and she will do the grocery shopping. 
The chef will want to know what kind of food you prefer, whether it's chicken, beef, pork, fish, salads, guacamole, salsa, etc. and it is very important to let us know in advance if you have any allergies or you don't like a particular type of food (i.e. garlic, onion, etc.)
She can also buy drinks (such as beer – Corona, XX Lager, Sol, Tecate, Pacifico, etc), wine, and the fixings for (amazing) margaritas, etc. She will provide you with the grocery receipts so that you can reimburse our chef for for the shopping….
Common Dishes:
Eggs – Huevos al gusto (rancheros, revueltos, con chorizo, tocino, jamon)
Chilaquiles
Fruta
Yogurt
Pancakes
Bacon
Beans
Salbutes
Panuchos
Chicken (any stile)
French fries
Enchiladas
Tostadas de pollo o pavo
Tacos al pastor
Arrachera
Fajitas de carne o pollo
Ceviche
Seefood
Fish
Pescado
Mariscos
Rice Arroz
Salads – Ensaladas
Pollo en mole
Pastas
Postres (flan, cake)