How close to the beach are you?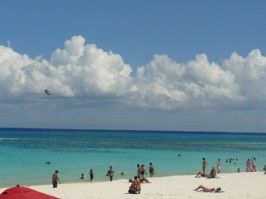 All of our properties are on the beach or very close! Please see individual descriptions to see exactly how close your vacation home is to the beautiful blue Caribbean!
How close to town are you?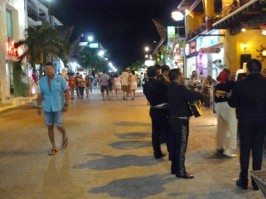 In Playa del Carmen, almost all of our condos are less than one block from 5th Avenue, the paved pedestrian walkway that runs parallel to the ocean and is Playa's main street. Our only condos that are located a little ways out of town are those located at Luna Maya, just off Coco Beach.
The casas and villas of Playacar Phase I are just south of the ferry dock and the south end of Quinta Avenida. Paseo del Sol is located on the golf course in Playacar Phase II.
Do we need to rent a car?
Everything in Playa is within fairly easy walking distance. If you decide you want a car after arriving in Playa, there are a myriad of rental services available in town.
And, there are taxis everywhere – if you go grocery shopping they will be waiting to bring you home!
How do we get to our vacation home?
From Cancun to Playa You can have us arrange transportation by van ($70 each way) or you may take a cab or the luxury bus. A cab will cost about $65-80. The bus costs $8 per person each way. The bus station is located at the south end of 5th Avenue (about 2.5 blocks from the condos at Luna Encantada). There are cabs/pedicabs/tricyclettes that will transport you and/or your luggage from there.
From Cozumel Take a cab from the airport to the ferry dock. Ferries leave each hour and it takes about 35 minutes to arrive in Playa del Carmen . From the ferry dock in Playa you can get a cab/pedicab/tricylette to get to your vacation home.
What about safety?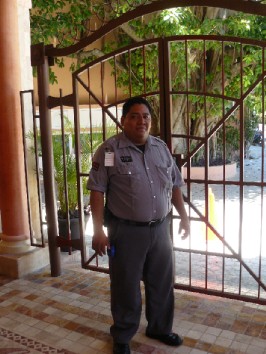 We have never felt the smallest bit unsafe in Playa. The condos have 24 hour security. Use common sense like you would anywhere — lock your door, don't leave valuables lying around. (Though I can tell you I've left my laptop, wedding ring and Tiffany watch on a 1st floor patio at Luna Encantada overnight and they were still there in the morning – I don't recommend this, however…)
If you are concerned about the violence from the border drug wars, don't be. The Yucatan is far removed and is not on the US State Department list of Mexican states to avoid. There are a number of articles that have been published in regards to this — http://online.wsj.com/article/SB123931839488506787.html
Do we need to get pesos?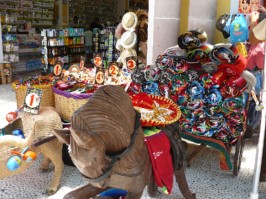 No. All stores in Playa will take dollars and euros and most will accept credit cards. There are ATMs nearby and places to change money, if you wish. We recommend that you take at least 100 dollars in ones — very handy for tipping and buying small items. You may get change in pesos but often times you will receive change in the currency you are using.
How far are the ruins?
Tulum is the closest — about 45 minutes. Coba is about 1.5 hours away. Hire a cab for the day or take an arranged tour. Chichen Itza is further, but tours are readily available for a day trip.
Where can we get groceries?
Super WalMart is 4 blocks from 5th Avenue. Also within walking distance is Mega and San Francisco. There are always cabs there to bring you and your groceries home. You will need to take a cab to get to Sam's Club if you prefer to shop there!
Not interested in spending your vacation at the grocery? We have a great grocery delivery service – order in advance and walk into your vacation home to a nice cold beverage and some snacks!
What about water sports? Massages?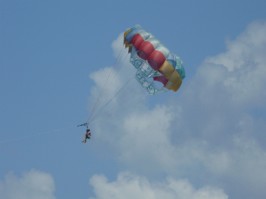 You can do it all right from the beach — Scuba, snorkel, sail, parasail, windsurf, jetski, catamaran, canoe, fish, etc!
All of the beaches in Playa are public and there are a number of great beach clubs where you can sit, sup and sip the day away!
Massage is ubiquitous and the rates are fantastic – if you ask you can get your rub on the beach, in your condo or in a nice spa.
There are lots of places to get a massage – for a unique treat, have one on the beach. If you prefer more privacy, there are great places on 5th Avenue.
Can I get a discount?
Most of our properties offer special discounts from time to time and our rates are competitive year-round with seasonal pricing. We can often offer a discounted price if you are travelling last minute (within about 21 days of arrival), if you are renting multiple units, are staying for 2 weeks or longer, if you've rented from Playa Beach Condos & Villas before, or if you are coming during the off season.
Remember, you are staying on one the finest beaches in the world in a private residence with added amenities and receiving personal attention from a knowledgeable vacation rental manager. You are benefitting from having all the comforts of home in an environment that has more than a bed for furniture. It's much more than a hotel room and you don't have to share rooms with your kids or best friends (unless you like that). Our utility bills would cause you heart failure if you got the same in Canada or the States. We offer a good value for an amazing place to stay.
Stays during high season (Jan – April) and holiday times are typically not discounted or we may be able to offer a nominal discount. Our properties are priced fairly and competively within the market. And remember, a place on the beach is not comparable to a couple blocks away 🙂
How can I decide on a property?
Let us help! We really know the area and with a little information from you, we can help you make the right decision based on your needs, wants, desires and budget! And, if we don't have anything that will work for you, we can give you frank opinions about other properties, check with our associates for availability, and give you a chance to just learn about why we love the Mayan Riviera!
I'm afraid of renting via the internet.
Check our reviews of properties and of our company on TripAdvisor/FlipKey – they are all verified reviews collected by FlipKey and sent directly to our guests. We stand behind our products and do everything we can to make your vacation one that you will want to take again (and again!).