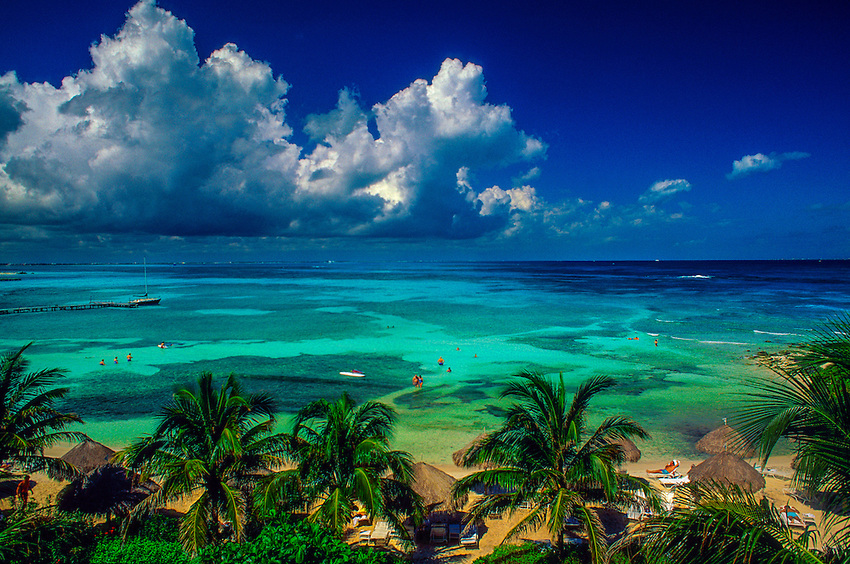 If a picture paints a thousand words, then the above picture of the Mexican Caribbean Sea paints a million words. Given this area has become like a second home for me due to both work and pleasure, I am entitled to bragging rights. 😉 If you have read my other blogs you know how passionate I am about the Riviera Maya's natural beauty, and part of that beauty is due to the uniqueness of the colorful Caribbean Sea. 
It was love at first sight when I first saw the jaw-dropping colors of the Caribbean. Literally my eyes popped right out of my head. (OK a small exaggeration!) Words like turquoise, azure, indigo, sapphire, cobalt, and ultramarine have been tossed around to describe the striking hues that the Caribbean emits, but until you see it for yourself it's hard to believe it's real. Add in a backdrop of white sandy beaches, swaying palm trees and sun-filled days and you've got one heck of a tropical vacation!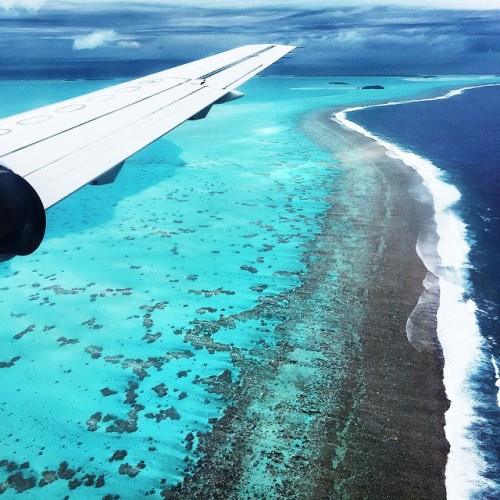 To this day I am still awed by its ever-changing parade of colors that greet me from the plane when we descend into the Cancun Airport. The breathtaking palette of blue green colors always garners oohs and aahhs from passengers on the plane. (Mexico should charge for these eye-popping views!) There's no question why the Caribbean Sea is listed as one of most colorful bodies of water on earth.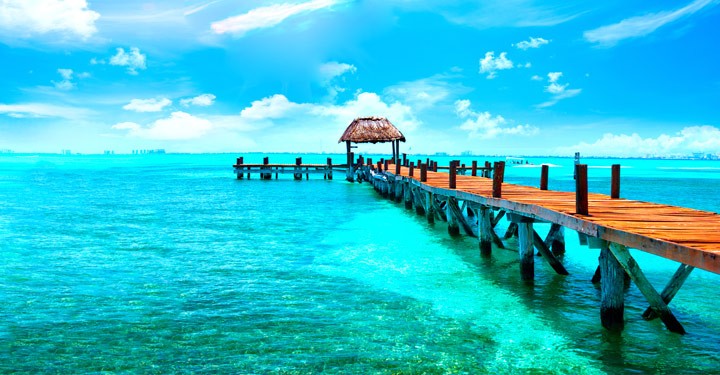 Whether you are lying in a lounger by the sea, body surfing the waves, swimming, snorkeling or diving in its wondrous crystal-clear waters, you'll be overcome with such a sense of peace and tranquility. Those calm azure waters that lap the shores of the Riviera Maya are a gift from heaven…
FIFTY SHADES OF BLUE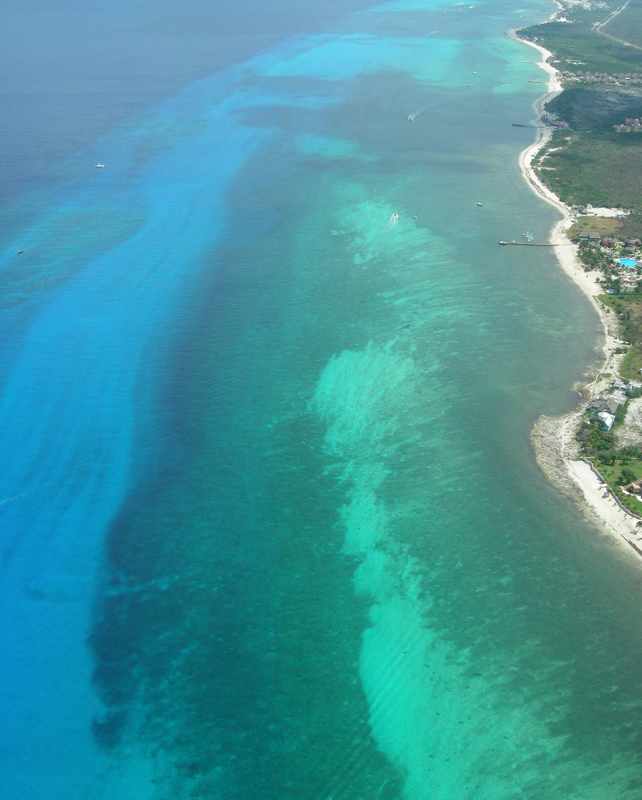 So while you are lying by the captivating sea sipping a margarita, you might ask yourself what makes this sea so blue? Well thanks for asking!  There is a fascinating scientific reason for this. In a nutshell, it's due to the way light interacts with water, how it interacts with things in the water, and the depth of the water. Water is a substance that does a good job of absorbing every color's light but blue, which it scatters.  The more water you've got and the deeper the water, the bluer it looks. However, in shallower waters (like the Caribbean Sea) this light is reflected thus offering this spectacular lighter blue color. Another big factor is what is on the ocean floor and in this case, the coral reef that is situated in this area also helps reflect the light  The bright white sand made from coral bits and degraded sea shells, reflects light better than the fine darker sand found in the cooler waters to the north. Another element that makes water appear blue is the absence of phytoplankton (a big word for 'algae') which tends to proliferate in water and absorb green light thereby making water look greener. However, the constant warm temperature of the Caribbean Sea is not conducive to the growth of algae, thus eliminating that familiar green hue and bumping up the turquoise blue color! So those main factors all come together in perfect harmony to make the Caribbean Sea such a showstopper!
The Caribbean Sea draws many divers and snorkelers from all over the world, including my husband who is a certified diver and has dove in many parts of this sea from Holbox to Tulum and parts in between. If you wish to get up close and personal with this sea, here are some highly recommended spots to do so.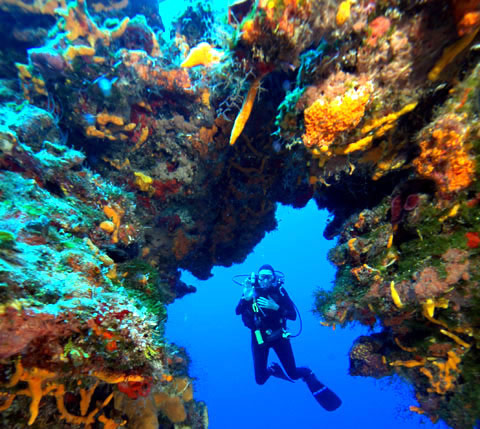 Diving on Cozumel Island
The island of Cozumel is rich in coral reefs which is a main attraction for divers from all over the world. Check out Chankanaab Lagoon which is a wonderful spot for beginner divers. The lagoon is connected to the sea by an underground tunnel which is full of marine flora and fauna. Palancar Reef is another excellent dive site for individuals not yet confident in their diving skills. Stretching three and a half miles, it offers massive coral clusters and the calm current offers wonderful photo opportunities.  Santa Rosa Reef is one of the most popular dive spots. It offers a plethora of caves and tunnels to explore along with giant sponges and stony coral.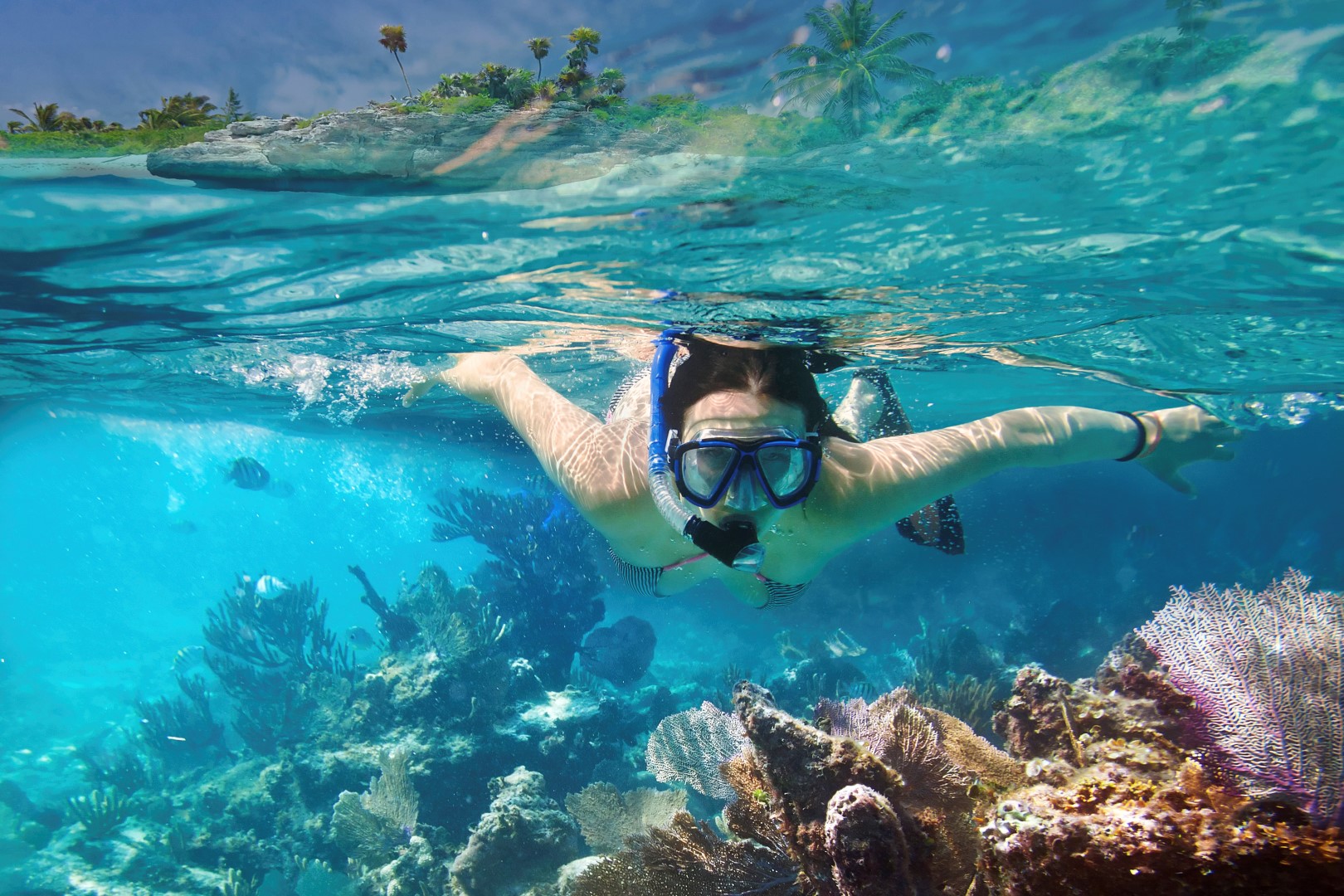 Snorkeling on Isla Mujeres 
Isla Mujeres is a beautiful island to explore whether on land or by sea. (I can talk all day about Isla Mujeres!) You can book snorkeling tours which usually begin at El Farito (the Lighthouse reef) which is a shallow area of around 2 meters where you'll see plenty of tropical fish and many types of coral. Be sure to look for a small statue of the Virgin Mary on the ocean floor. She was found in a shipwreck and placed here by local fishermen. The tours continue to the Sac Bajo or Manchones reef and MUSA the underwater sculpture museum. Buffet lunch is optional and many tours provide snorkel equipment.
Another way to enjoy the views of the Caribbean is to rent one of our fantastic oceanfront condos or villas. In particular the panoramic views from our penthouse condos are divine. Despite all there is to do in the area, the splendid ocean views will keep you captivated and you will have to be dragged off your rooftop trust me!
Till next month, feel free to read more of my blogs listed recent posts and archives on this website!
Salud!
"PLAYA" Gal (a very satisfied client now working to promote Playa Beach Getaways!)
Contact Sally Foran: salgal@playabeachcondo.com  ~~ PS Catch us on Facebook & Pinterest

Sally Foran is a happily married mom of 3, residing in Canada and is a frequent traveler to the Riviera Maya MX. She is an aficionado on 'everything Playa del Carmen' and writes with joy and passion about the area. She is also a witty blog contributor to Work & Family Foundation Canada, and NAVUT (offering professionals new to Ottawa the inside scoop!) Sally has also been awarded Blogger of the Week on TravelBlog.Org which enjoys over 250,000 bloggers world-wide.
Playa Beach Getaways is a Denver CO. based company owned by Tonya Sarina. Playa Beach Getaways / Your Best Getaway have earned a rating of Excellent by Trip Advisor, FlipKey and VRBO and continues to earn raves from satisfied guests who return time after time.